Filipino Style Recipe: Mushroom and Sotanghon Soup with Meatballs is another easy and mouth-watering soup dish that usually during rainy season. The dish is consist of sotanghon noodles boiled in pork soup together with mushrooms and meatballs.
Ingredients: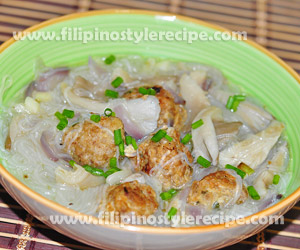 2 packs sotanghon noodles
100 grams oyster mushrooms, torn into 2-3 pieces
1 onion, chopped
3 cloves garlic, minced
1 pork bouillon
fish sauce or salt and ground pepper to taste
3/4 litre of water
2 tablespoons chopped spring onion (optional)
Meatballs:
300 grams ground pork
1/2 cup bread crumbs
1 raw egg
1/2 small onion, finely chopped
salt and pepper to taste
2 tablespoons cilantro, finely chopped
1 teaspoon soy sauce(optional)
1/2 teaspoon worcestershire sauce(optional)
Procedures:
Part 1(Skip this procedure if you are using premade meatballs from the market)
1. In a bowl, combine all the meatballs ingredients and mix thoroughly.
2. Scoop and form the mixture into 1 tablespoons ball shaped.
3. In a frying pan, heat oil and deep fry until light brown. Drain and set aside.
Part 2
1. In a bowl, soak sotanghon in water until soft then cut into desired length. Set aside.
Part 3
1. In a pot, heat oil and saute garlic, onion and mushroom.
2. Add water and bring to boil then add pork bouillon.
3. Add meatballs and simmer for 3 minutes.
4. Season with fish sauce and ground pepper according to taste.
5. Add sotanghon noodles then simmer for another 2 minutes.
6. Transfer to serving bowl and sprinkle with spring onion then serve immediately.
Comments
comments
Powered by Facebook Comments