Filipino Style Recipe: Spicy Pork and Eggplant is consist of fried eggplant and ground pork sauteed and cooked in spicy thick sauce. This simple yet mouth watering dish is usually served together with steamed rice.
Ingredients: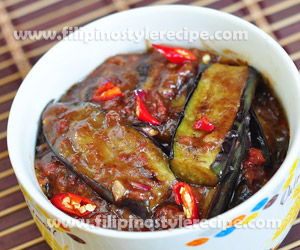 2 long eggplants cut into 2 inch length and halved
1/4 kilogram ground pork
3 cloves garlic, minced
1 medium onion, minced
1 piece chili, chopped
2 tablespoon oyster sauce
2 tablespoon soy sauce
1 tablespoon flour dissolved in 1/4 cup water
salt and pepper to taste
Procedures:
1. Heat oil in a pan over medium heat. Fry eggplant until soft and browned on each side. Remove from pan and set aside.
2. On the same pan, saute garlic, chilies, and onion until fragrant and translucent.
3. Add ground pork and cook until browned. Add oyster sauce,soy sauce and water. Simmer until sauce thickens around 10 minutes. Add back the eggplants and cook for 3 minutes.
4. Season with salt and pepper according to preference.
5. Serve with steamed rice and enjoy.
Comments
comments
Powered by Facebook Comments