Ingredients: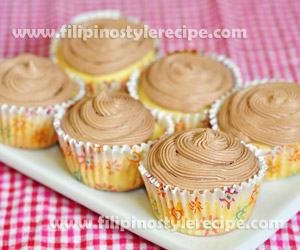 1 1/2 cup all purpose flour
2 teaspoon baking powder
1 teaspoon baking soda
1/3 cup butter, softened
3/4 cup sugar
2 large eggs
1/3 cup sour cream
4 tablespoon milk
2 teaspoon vanilla extract
1 cup grated cheddar cheese
For the Frosting:
1 cup semi sweet chocolate chips
1 (8 ounce) cream cheese, chilled
1/4 cup confectioner's sugar
Procedures.
1. In a bowl, sift together the flour, baking powder, baking soda.
2. In a mixing bowl, beat together the sugar and butter until creamy. Add the eggs one at a time, beating lightly after each addition. Add the sour cream,milk, and vanilla extract and beat until combined.
3. Gradually add the flour mixture and mix using spatula until no dry lumps remain. Fold in the grated cheese. Do not over mix.
4. Put cupcake cups into muffin pan and pour batter into each cup until almost full, around 3/4 of the cup.
5. Bake in preheated oven at 350 degrees Fahrenheit for 15-20 minutes.Remove from oven and let it cool slightly before frosting.
To prepare the frosting:
1. In a bowl on top of a pan with boiling water, melt the chocolate chips.Let it cool.
2. In a mixing bowl, beat together the cream cheese and sugar until smooth. Slowly add the melted chocolate and beat again until well combined.
3. Frost the cupcake.
Comments
comments
Powered by Facebook Comments