Ingredients: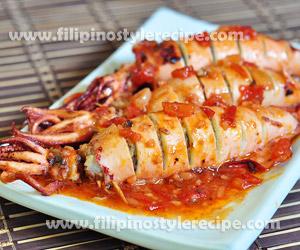 3-4 pieces medium-sized squid, cleaned
2-3 cups cooked rice
2 tablespoons chopped parsley
300 grams beef sirloin, slice thinly into small pieces
1 white onion, chopped
1 green bell pepper, cut into small cubes
1/2 cup tomato puree
2 tablespoons lemon juice
2 tablespoons vegetable oil
salt and pepper to taste
Marinade:
4 tablespoons soy sauce
2 tablespoons oyster sauce
3/4 teaspoon cumin
1/2 teaspoon Spanish paprika
1/2 teaspoon garlic powder
1/2 teaspoon ginger powder
1/2 teaspoon ground pepper
Procedures:
Part 1
1. In a bowl, marinate beef for 30 minutes. Set aside.
Part 2
1.In a pan, heat oil then stir cook beef over high heat for 3 minutes.
2. Add cooked rice and parsley then mix until well blended.
3. Season with salt and pepper according to taste. Let it cool.
Part 3
1. In a separate pan, heat oil then saute onion, bell pepper and tomato puree for 3 minutes. Set aside.
Part 4
1. Stuff squid with rice mixture then insert the head. Close opening with toothpick.
2. In a baking pan, place squid in a single layer then pour over the sauteed tomato puree. Cover with aluminum foil.
Part 5
1. Bake in a preheated oven over 350 degrees Fahrenheit for 20 minutes.
2. Remove foil then bake uncovered for another 30 minutes or until tender.
3. Transfer into serving plate then cut into rings.
Comments
comments
Powered by Facebook Comments