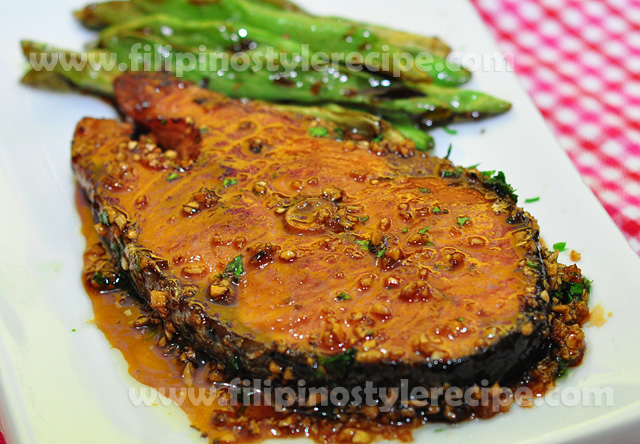 Ingredients:
2 pieces sockeye steaks salmon
1 tablespoon lemon juice
2 tablespoons vegetable oil
salt and pepper to taste
chopped parsley for garnishing
green beans, steamed (optional)
Sauce:
2 tablespoons honey
1 tablespoon grated ginger
1 tablespoon minced garlic
1 teaspoon brown sugar
1 tablespoon soy sauce
1 teaspoon sesame oil
Procedures:
Part 1
1. Season salmon with lemon juice, salt and pepper then set aside for 15 minutes.
2. In a separate bowl, combine sauce mixture then mix well.
Part 2
1. In a pan, heat oil then fry salmon until light brown.
2. Pour the sauce mixture then simmer until reduced and thickens.
3. Transfer into serving plate then drizzle with remaining sauce.
4. Sprinkle with chopped parsley then serve with steamed beans.
Comments
comments
Powered by Facebook Comments