The most common recipes I encounter for muffins calls for blueberries. However, blueberries can be pretty expensive since they are not usually grown locally. This muffin is using ripe mangoes which are commonly available in the market all year round. The mango gives this muffin a summery tropical feel that you got to try.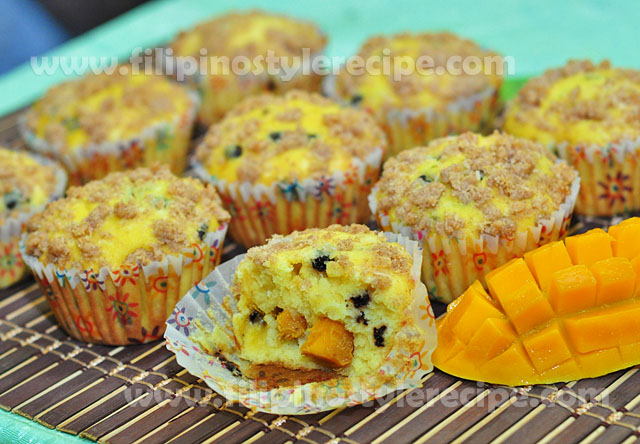 Ingredients:
For the muffin:
1/2 cup butter, softened
1/2 cup white sugar
1/2 cup brown sugar
1/2 teaspoon salt
2 eggs
1 3/4 cup all purpose flour
2 teaspoons baking powder
1 tablespoon buttermilk powder dissolved in 1/2 cup milk (or water)
1 cup mango, seeded and diced
1/2 cup chocolate chips
For the coconut streusel:
1/4 cup all-purpose flour
1/4 teaspoon ground cinnamon
1 tablespoon white sugar
3 tablespoons desiccated coconut
1 pinch salt
Procedures:
1. In a bowl, beat the butter, sugar, and salt until smooth. Add one egg and beat until completely blended. Add the second egg and beat again.
2. In a separate bowl, combine the flour and baking powder. Stir into the butter mixture alternately with the buttermilk in 3 parts. Toss the chocolate chips in flour (to avoid sinking at the bottom of muffin) then fold into the batter together with the mango.Fill the prepared muffin cups.
3. To prepare the coconut streusel, combine flour, the cinnamon, sugar, the coconut, and 1 pinch of salt in a small bowl. Mix in butter until completely incorporated into the flour. Sprinkle on top of the filled muffin cups.
4. Bake in preheated oven at 350F for 25 minutes or until toothpick inserted at the middle comes our clean.
Comments
comments
Powered by Facebook Comments