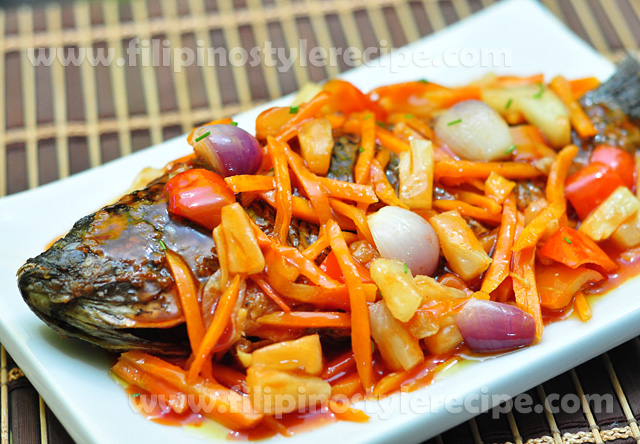 Ingredients:
2 pieces tilapia, washed and cleaned
1 bell pepper, diced
1 cup pineapple chunks
2 onions, quartered
2 tablespoons ginger, julienned
6 cloves garlic, minced
salt to taste
cooking or vegetable oil for frying
1 small carrot, peeled and sliced diagonally(optional)
Sweet and Sour Sauce:
1 cup water
1/4 cup pineapple juice
2 tablespoons brown sugar
2/3 cup vinegar
1/2 cup ketchup
2 tablespoons soy sauce
1 tablespoon sesame oil
1 tablespoon cornstarch(dissolved in 1/4 cup water)
Procedures:
Part 1
1. Season fish with salt.
2. In a frying pan, heat oil and fry fish until golden brown each side.
3. Transfer to serving plate and set aside.
Part 2
1. In a pan, heat oil and saute ginger, garlic, onion, bell peppers, pineapple chunks and carrots until done. Remove and set aside.
Part 3
1. In a same pan, combine water, sugar, vinegar, pineapple juice, ketchup, soy sauce and sesame oil. Mix well.
2. Let sauce boil over medium heat.
3. When boiling, add dissolved cornstarch and continue stirring until thickens. Remove from heat.
4. Pour the sauce with veggies over fried fish.
5. Serve immediately with steamed rice.
Comments
comments
Powered by Facebook Comments