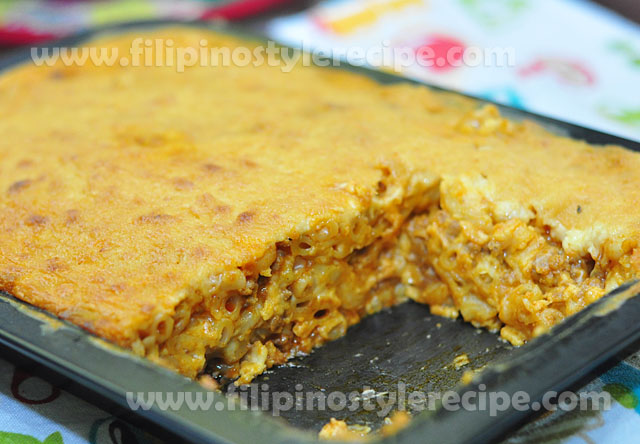 Ingredients:
1/2 kilo elbow macaroni
1 cup grated cheddar cheese

Meat Sauce:
1/2 kilo ground pork
3 gloves garlic, minced
1 medium onion, chopped
1 big can four cheese pasta sauce or spaghetti sauce
1 tablespoon brown sugar
1 teaspoon nutmeg
1 teaspoon dried basil
salt and pepper to taste
White Sauce:
1/3 cup butter
1 big can evaporated milk
4 tablespoon all purpose flour
1/2 cup grated parmesan cheese
Procedures:
Part 1
1. Cook elbow macaroni according to package instruction. Set aside.
Part2 (Meat Sauce)
1. In a sauce pan, heat oil and saute garlic and onion
2. Add ground pork, salt and pepper. Cook for 5-8 minutes or until tender.
3. Add four cheese pasta sauce, nutmeg, basil, and brown sugar. Cook for 10 minutes.
4. Adjust seasoning according to taste. Remove from heat. Set aside.
Part 3 (White Sauce)
1. In a separate pan, melt butter and add flour. Mix until well blended.
2. Add all evaporated milk .
3. Mix well until thickens but still pourable. Add the Parmesan cheese and mix until well blended.Set aside.
Part 4
1. In a big bowl, mix the macaroni,meat sauce, cheddar cheese, and half of the white sauce.
2. In a rectangular(12x8inch) baking dish, pour the macaroni mixture. Top with the remaining white sauce.
5. Bake in preheated oven at 100 degrees Celsius for 30 minutes.
Comments
comments
Powered by Facebook Comments