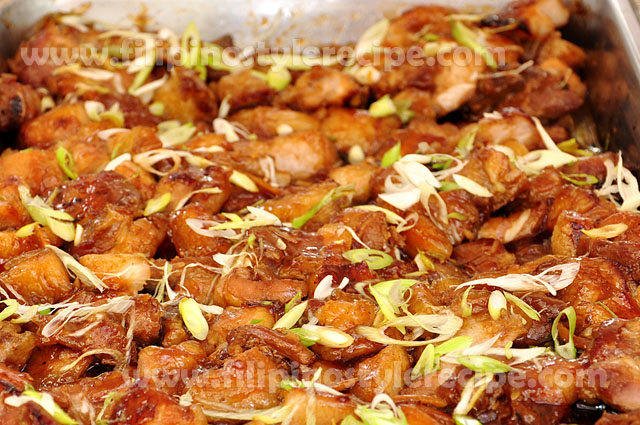 Ingredients:
1/2 kilo chicken fillet, cut into serving pieces
2 tablespoons teriyaki sauce
1 tablespoon water
1 tablespoon cooking oil
1 tablespoon cornstarch
Marinade:
3 tablespoons teriyaki sauce
1 tablespoon sesame oil
1 tablespoon sugar
salt and pepper to taste
For Garnishing:
1 teaspoon sesame seeds, toasted (optional)
onion leeks, chopped
Procedures:
Part 1
1. In a bowl, combine chicken and marinade then set aside for an hour.
2. Add cornstarch then mix well. Remove chicken from marinade.
Part 2
1. In a pan, heat oil then stir cook chicken over low heat for 5 minutes or until golden and cooked.
2. Add teriyaki sauce and water then adjust seasoning according to taste.
3. Simmer a few seconds then remove from heat.
4. Transfer the chicken to serving plate and pour thickened sauce over chicken.
5. Sprinkle with toasted sesame seeds and onion leeks. Serve hot immediately with steamed rice.
Comments
comments
Powered by Facebook Comments