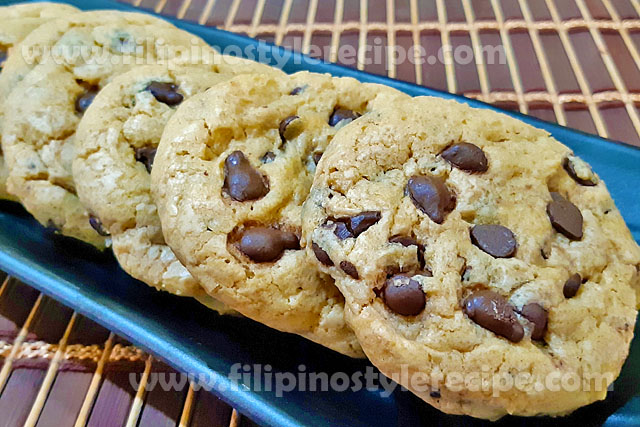 Yields 24 cookies
Ingredients:
3/4 cup melted butter
1 cup white sugar
1 cup brown sugar(packed)
2 large eggs
2 teaspoons vanilla extract
1 teaspoon baking soda dissolved in 2 teaspoon hot water
1/2 teaspoon salt
3 cups all purpose flour
1 1/2 cup chocolate chips
Procedures:
1. In a mixing bowl, cream butter and sugar using electric mixer for 3 minutes or until smooth. Beat in the eggs, one at a time. Add the vanilla, baking soda mixture and salt then mix until well combined.
2. Add the flour to the mixture then mix using a spatula. Fold in 1 cup of chocolate chips.
3. Drop large spoonful of batter into ungreased pan then top with remaining chocolate chips. (You can also freeze half of the batter for future baking)
4. Bake in preheated oven for 10 minutes at 350 degrees Fahrenheit. Remove from the oven, let it cool before removing from the pan.
Comments
comments
Powered by Facebook Comments