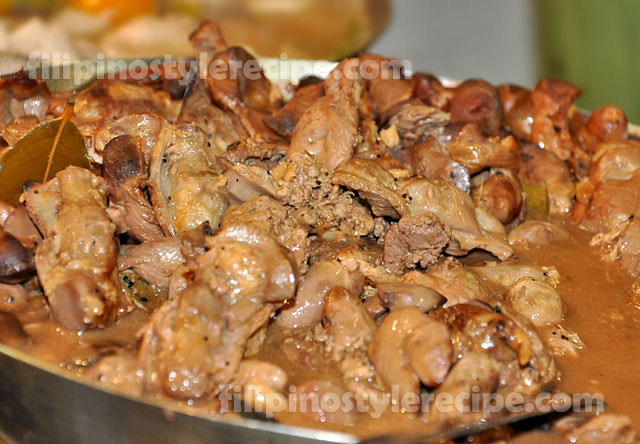 Ingredients:
350 grams chicken giblets and heart, cleaned
150 grams chicken liver, cleaned
6 cloves garlic, chopped
1 onion, chopped
1 thumb-sized ginger, julienned
1/4 cup soy sauce
3 tablespoons cup vinegar
1 teaspoon peppercorns
3 pieces bay leaves
1 cup water
1 cup coconut milk
2 pieces green chili, chopped
3 pieces bird's eye chili (labuyo), chopped
salt and ground pepper to taste
Procedures:
1. In a pan, heat oil then saute garlic, onion and ginger.
2. Add giblets and heart then saute for 2-3 minutes.
3. Pour water, cover and simmer until almost dry and tender. Add water if needed.
4. Add liver and cook until brown and tender.
5. Add soy sauce, vinegar, peppercorns and bay leaves then simmer for 3 minutes.
6. Pour coconut milk and bring to boil. Keep stirring.
7. Add green and red chili. Adjust seasoning according to taste then simmer until almost thickens.
8. Transfer to serving plate then serve immediately together with steamed rice.
Comments
comments
Powered by Facebook Comments