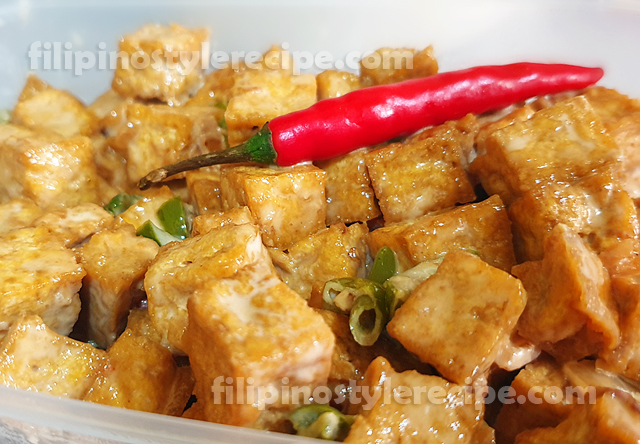 Ingredients:
400 grams firm tofu, cut into cubed
1 red bell pepper, chopped (optional)
1 green bell pepper, chopped (optional)
1 medium sized yellow onion, finely chopped
1 tablespoon butter
Cooking oil for frying
1-2 pieces bird's eye chili
Sauce:
1/4 cup Mayonnaise
1 tablespoon liquid seasoning
1/2 teaspoon onion powder
1 tablespoon lemon juice
Procedures:
Part 1
1. In a bowl, combine sauce ingredients and set aside.
Part 2
1. In a frying pan, heat oil then fry tofu until light brown. Drain and set aside.
Part 3
1. In a pan, heat 2 tablespoons oil then saute onion and bell pepper.
2. Add fried tofu and stir cook for a minute.
3. Add 1/2 of sauce mixture then stir cook for another minute.
Part 4
1. In a hot sizzling plate, melt butter then transfer tofu mixture.
2. Add remaining sauce mixture then toss.
3. Topped with bird's eye chili then serve hot immediately.
Comments
comments
Powered by Facebook Comments