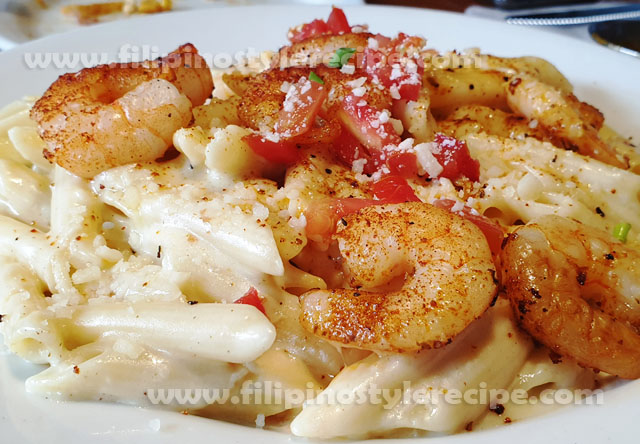 Ingredients:
500 grams linguine pasta
500 grams shrimp, peeled and deveined
100 grams sliced button mushroom
1 can evaporated milk
250 ml all purpose cream
1 can creamed of mushroom soup
1 head garlic, minced
1 onion, minced
2 tablespoons cayenne pepper
2 large tomatoes, seeded, diced
1 teaspoon ground pepper
2 tablespoons olive oil
250 grams grated Parmesan cheese
2 tablespoon spring onion, chopped(optional)
Procedures:
Part 1
1. In a large pot, prepare the pasta based on cooking instructions. Set aside.
Part 2
1. Sprinkle shrimps with cayenne pepper.
2. In a nonstick pan, heat oil then sear shrimps until color turns to pink. Remove from the pan and set aside.
Part 3
1. In a same pan, saute garlic, onion and mushroom for 2-3 minutes.
2. Add evaporated milk and creamed mushroom soup.
3. Add the all purpose cream and grated Parmesan cheese. Stir and bring to boil. Season with ground pepper. (Add more evaporated milk or a cup of water if the sauce is too creamy or salty.)
4. Simmer until beginning to thicken. Put back the shrimps then toss to combine. Remove from heat.
5. Prepare pasta into serving plate, top with tomatoes, spring onion and grated Parmesan cheese. Serve and enjoy.
Comments
comments
Powered by Facebook Comments