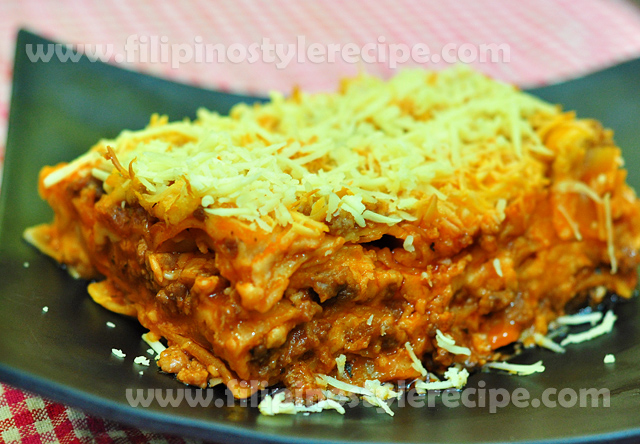 Ingredients:
1/2 kilo instant Lasagna pasta
Meat Sauce:
1/2 kilo ground lean beef
6 gloves garlic, minced
1 onion, chopped
1 big can four cheese pasta sauce or spaghetti sauce
1 tablespoon brown sugar
3 tablespoons olive oil
salt and pepper to taste
1 teaspoon dried basil
Bechamel Sauce:
1/3 cup butter
1 big can evaporated milk
4 tablespoon all purpose flour
1/2 cup grated parmesan cheese

Toppings:
1 cup grated cheddar cheese
Procedures:
Part 1
Meat Sauce:
1. In a sauce pan, heat oil and saute garlic and onion
2. Add ground beef, salt and pepper. Cook for 5-8 minutes or until tender.
3. Add four cheese pasta sauce, basil and brown sugar. Cook for 10 minutes.
4. Adjust seasoning according to taste. Remove from heat. Set aside.
Part 2
White Sauce:
1. In a separate pan, melt butter and add flour. Mix until well blended.
2. Add all evaporated milk .
3. Mix well until thickens. Add the Parmesan cheese and mix until well blended.Set aside.
Part 3
Assembly:
1. In a rectangular(12x8inch) baking dish, put a thin layer of the meat sauce. Arrange pasta sheets above it.
2. Spread a layer of meat sauce, a layer of white sauce, and sprinkle with cheddar cheese.
3. Repeat alternate layering up to 4 layers is formed.
4. top with grated cheddar cheese and dried basil.
5. Bake in preheated oven at 100 degrees Celsius for 60 minutes.