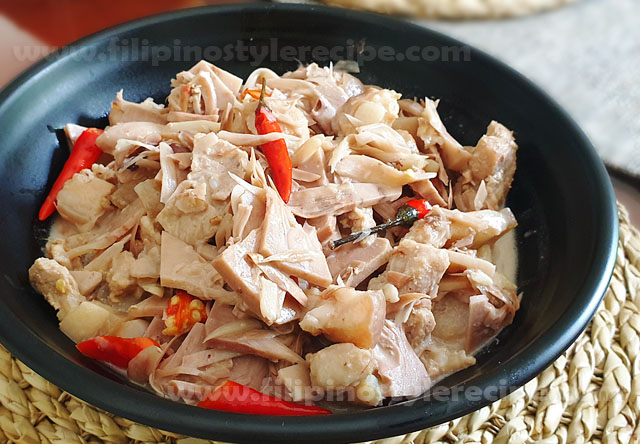 Ingredients:
6 cups unripe jackfruit(langka), sliced
1 cup coconut cream(first extract)
2 cups coconut milk(second extract)
5 cloves garlic, crushed
1 large onion, chopped
1 thumb-sized ginger, sliced thinly
3 pieces green chili(siling haba), chopped
5-7 chili hot peppers(siling labuyo), chopped
200 grams leftover pork liempo, chopped
1 tablespoon vegetable oil
salt and pepper to taste
Procedures:
1. In a saucepan, heat oil and saute onion, garlic and ginger.
2. Add langka, stir and saute for a few minutes.
3. Pour coconut milk(second extract), simmer over low heat for 10 minutes.
4. When the sauce is almost absorb, pour coconut cream(first extract) and season with salt and pepper.
5. Cook for another 10 minutes or until langka is tender. Stir occasionally to avoid curdling.
6. Add pork and green and red chili, simmer until sauce is thickens and oily.
7. Transfer to serving bowl then serve.