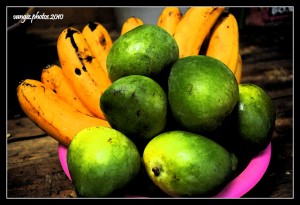 Mangoes and Bananas. My Mom bought this fruits awhile ago and I made some shots. I applied a few Photoshop enhancement. Not that good but hopefully it's okay for now.
Anyway, did you know that a medium size banana ( 7-8 inches long) contains around 105 calories? And contrary to some beliefs that bananas can make you constipated, it actually contains around 3.1 grams of dietary fibers. As we all know these fibers aids in our digestion.
Mango is one of my favorite fruits. I like it with bagoong when it is still green. When it ripens, it can be eaten as is for dessert. We are lucky to be a home of the world famous Guimaras Mangoes, said to be the sweetest mango. I'd love to go there sometime …one of these days.