Filipino Style Recipe was invited to attend the Merry Cremas Food Bazaar event held on December 15, 2013(Sunday) at Activity Center open ground in Eastwood Mall.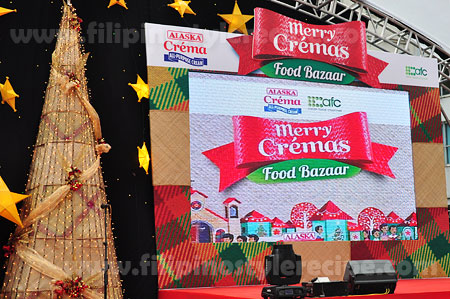 There were several merchants who joined the event and they presented their specialties for free food tasting. They also served their entries of delicious holiday goodies using Alaska Crema where Filipino Style Recipe was one of the judges.
Here are the entrepreneurs who joined in the event:
Alchemy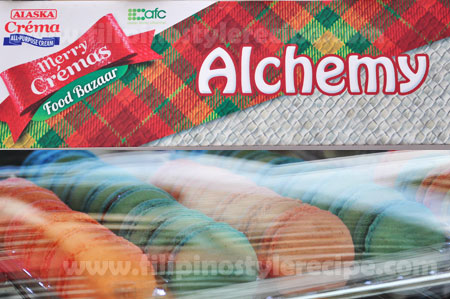 Macarons (Box of 6 – P220, Box of 12 – P425)
Dark Chocolate Truffles (Box of 12 – P295)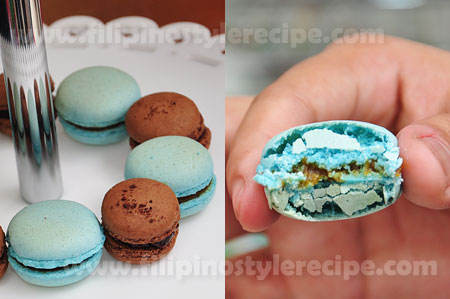 I tried their mini macarons with Alaska Crema and I can say that their version of macarons is one of the best that I have ever tried. My favorite was the salted caramel flavor.
Baked Bites
Ms. Bettinna Carlos is one of the famous young entrepreneurs that day, not because she's an actress but she owned the popular Nutella Rocks. I had seen her in a TV show for being a successful entrepreneur and I must admit that her product really rocks!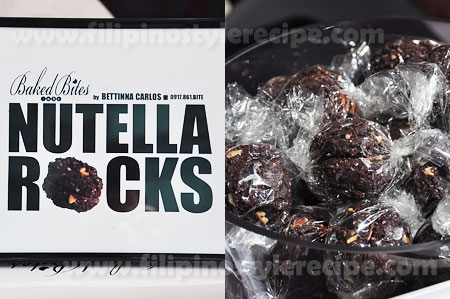 Nutella Rocks(P45/each)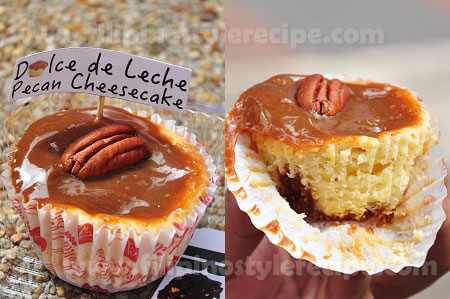 I also tried her Dulce de Leche Pecan Cheesecake with Caramel and Alaska Crema on top. It has a very soft and creamy texture that blends to the sweetness of caramel. I recommend this as gifts or giveaways this coming Holiday.
Contact Number: 0917-861.BITE(2483)
Bite Contemporary Cuisine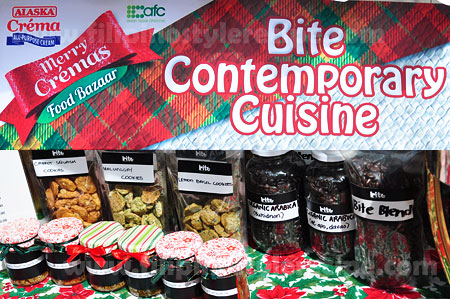 Bite Contemporary cuisine showed us their kohol(sea snails) chowder with Alaska products. I must say the soup was really creamy and tasty!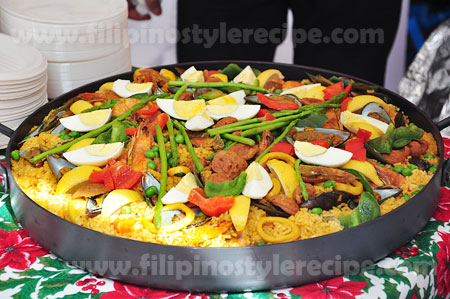 They also presented their best seller "Paella Valenciana".
Cakes and Bakes
Cakes and bakes offers different varieties of pastry and their best sellers are kamote bread, choco banana loaf, dulce de leche cake and cream puffs.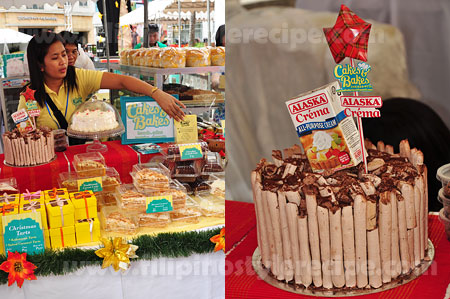 Their entry for the Alaska Crema holiday goodies was the Chocolate Mouse Merengue which was really awesome not only on the presentation but also the taste.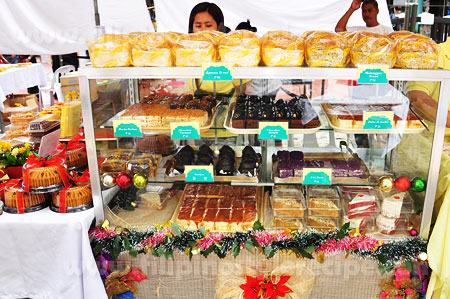 Contact Numbers : 654 0913, 654 9877, 470 8921
Email : cakesbakesinc@gmail.com
Choco ATBP
Choco ATBP offers homemade chocolates from Philippine grown and processed cacao. The owner even showed us how to use the batirol to prepare a chocolate drink.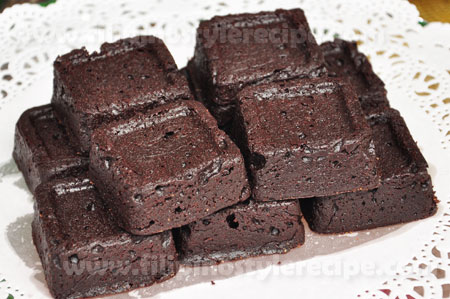 Dark Chocolate Tablea Fudge Bars has different varieties; they have simple vanilla, delightful orange, tsoko mint, sili tsoko and peanut tsoko.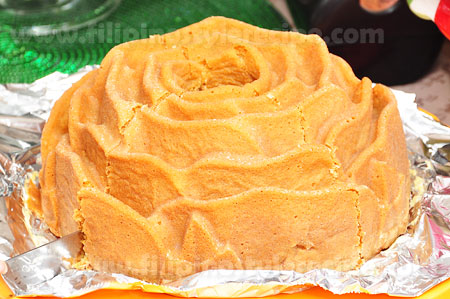 Contact Numbers : 0908 894 9598, 0918 903 0664, 02 647 1082
Email: cs@chocoatbp.com
CJM's Catering Services
CJM's Catering Services is located in Tipas Taguig City. They prepared their version of cream puffs and baked macaroni with Alaska products.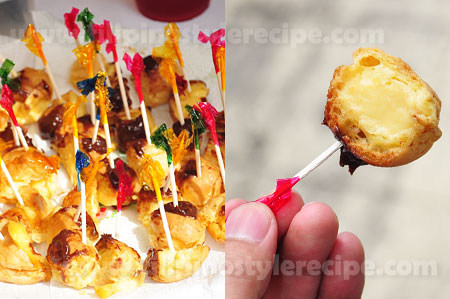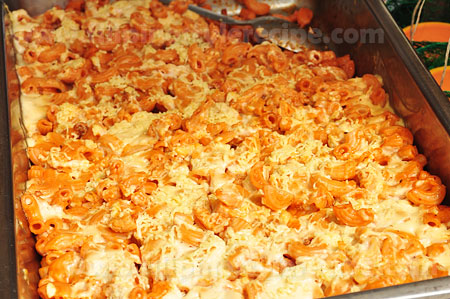 Contact Numbers : 0918 522 8968, 0915 308 3048
Email : celynocheseda@yahoo.com
Cooking Ina's Kitchen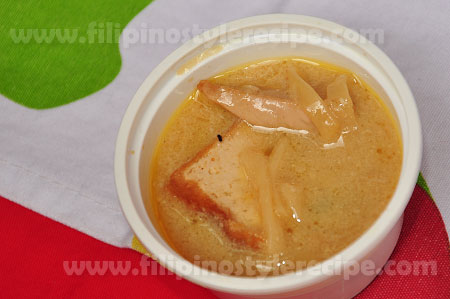 Mrs. Benilia Besana Legaspi is an execute chef of cooking Ina's Kitchen presented their Asian Fusion of Malaysian and Bicolano Laksa. They used coconut milk as main ingredients similar to Laksa Lemak from Malaysia. They also added Alaska Crema for the extra creaminess to this dish.
Contact Number : (02) 823-21-07
Double Delights
Looking for special polvoron? Double delights offers premium polvoron and polvoron cupcakes.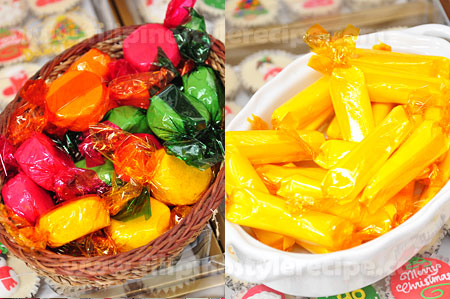 For Premium Classic Polvoron has different varieties available in butter, crispies, cashew, cookies n cream, peanut, ube and assorted pack for Php 100.00(pack of 15) and Php 250.00(pack of 40).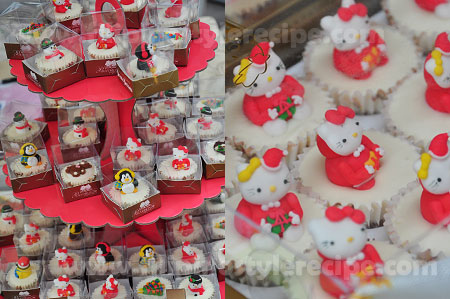 You can have these polvoron cupcakes with different designs for Php 35.00-45.00 each or Php 100.00(box of 3), Php 120.00(box of 4), Php 180.00(box of 6) and Php 300.00(box of 12). These cute goodies are great for gift this holiday or giveaway during parties.
Contact Numbers: 0932 888 1350, 296 3702, 470 2419
Email: anne@doubledelights.com
Forever Cupcakes
Forever cupcakes displayed their customize cupcakes with your favorite characters.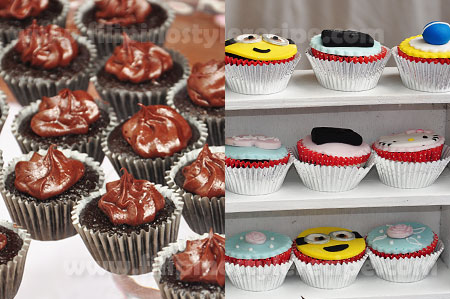 They also have Christmas designed cupcakes for this coming Holiday season.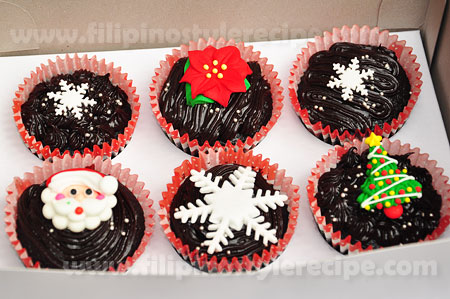 Hey Gourmet
Hey Gourmet is popular in different varieties of bread and sweets.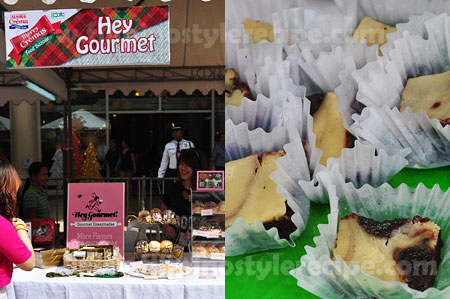 They presented their own version of rock salt and cheese bar which is one of my favorite,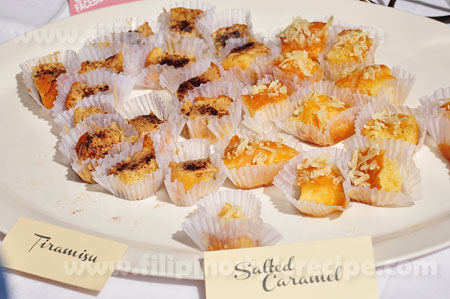 tiramisu and salted caramel with Alaska product.
Contact Number: 0922 857 9151
Email: heygourmetpastries@gmail.com
Joanie's Cupcakes
I can say that their cupcakes really taste good. This is also a good choice for gifts and giveaways.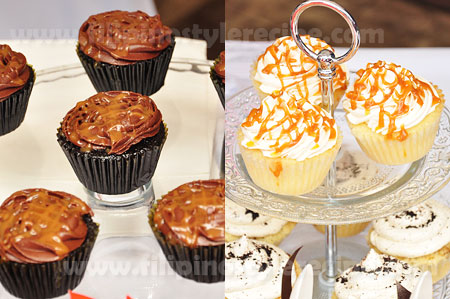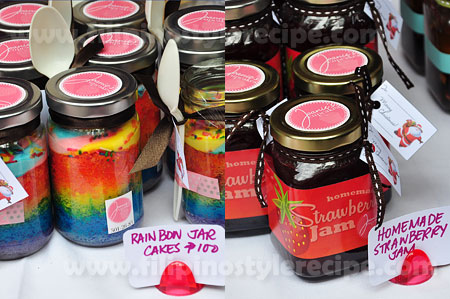 I was curious before what is rainbow jar cakes when I watched it in a TV show until I saw it personally in food bazaar.
Malagos Chocolate
Malagos presented their version of chocolate fondue made of Malagos hot chocolate from Davao with Alaska products.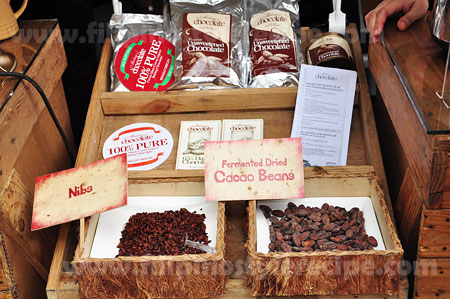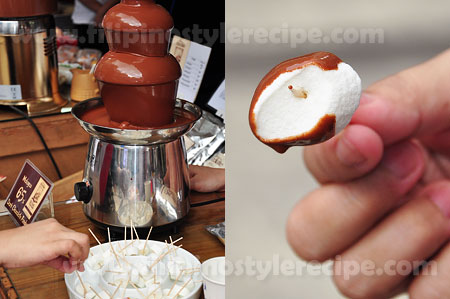 Contact Numbers: 02 843 5303, 02 929 9310
Email: sales@malagoschocolate.com
Med Chef
Med chef presented their version of Molten Chocolate with caramel sauce made of Alaska product.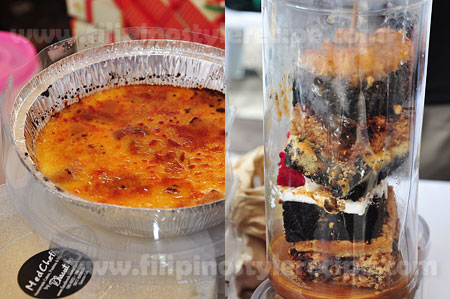 They also displayed their bread pudding creme brulee and the pastry tower that consists of different pastries was also mouth-watering.
Nothing But C
Nothing but C specializes in customized cakes for all occasions like baby shower, birthday, baptism, debut, wedding, etc.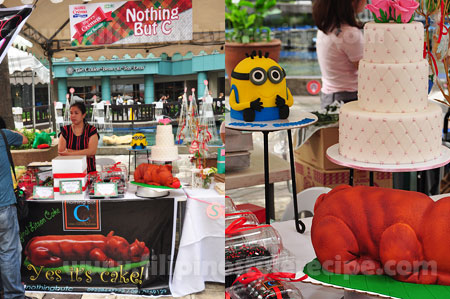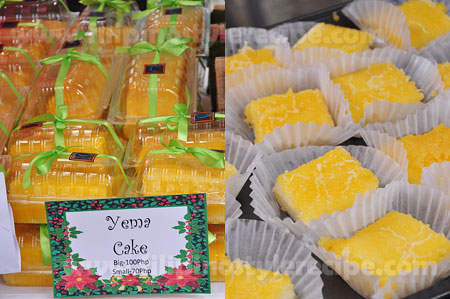 I was very curious about the taste of yema cake when someone posted on facebook. I am glad that I found this cake here in food bazaar. For small sized -Php 70.00, big sized – Php 100.00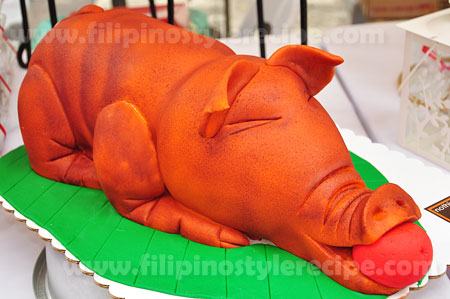 Yes it's a cake! They have the original lechon cake in different sizes.
Super Mini(4 inches diameter, 10 inches length) for Php 1,000.00
Mini for Php 1,500.00
Regular(7 inches diameter, 18 inches length) for Php 3,000.00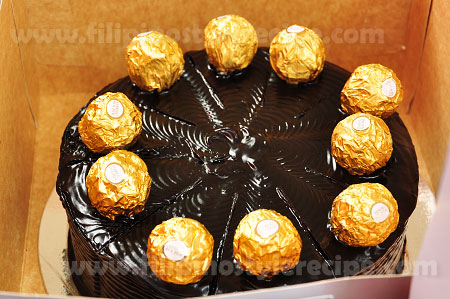 They also have "Ferrero Cake" made of chocolate cake topped with Ferrero chocolate.
Contact Numbers : 0917 576 9129, 0922 864 5972, 215 2773
Nutty Drizzle
Nutty Drizzle baked goodies specially the popular kroughnuts.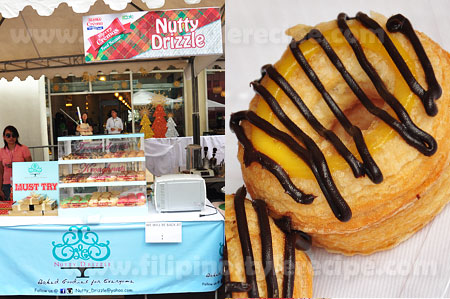 Some of their products are custard with choco drizzle kroughnuts for Php 50.00 each and chocolate drizzle with creamy custard for Php 40.00 each.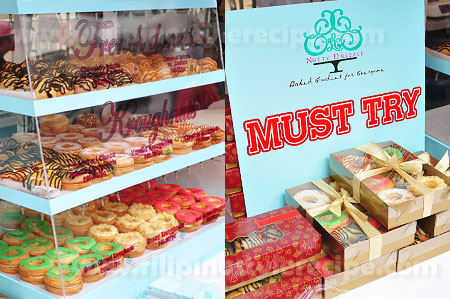 Contact : 0922 897 2196, 0906 362 4313
Email : Nutty_Drizzle@yahoo.com
Party Time Philippines
Party Time Philippines has a complete set of party needs like catering, photo and video, magicians, food carts even in corporate events.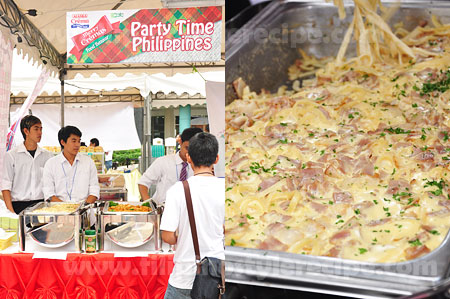 They presented their bacon carbonara with Alaska Crema,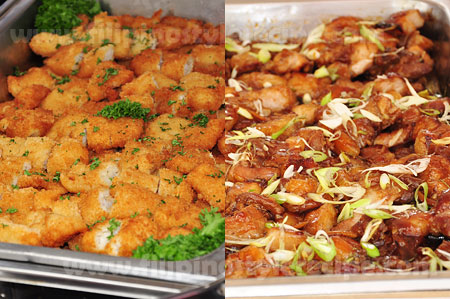 fish fillet with creamy herb sauce and my favorite honey barbecue ribs. The rib was so tender and the sauce was really delicious that suits my taste.
Contact Numbers: 986 3876, 753 8150, 0917 848 5878
Email : partytimephilippines@yahoo.com
Red Velvet
Red velvet also offers customized cupcakes, their products are also ideal for gifts and giveaways specially for the kids.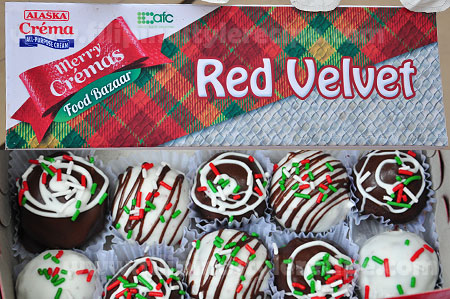 They also have rainbow designed cupcakes for the holiday season.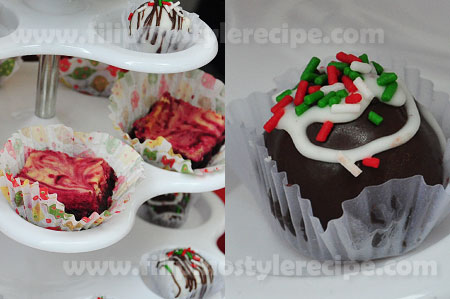 Roasterrific
Roasterrific is popular in serving roasted dishes like bagnet, roasted chicken,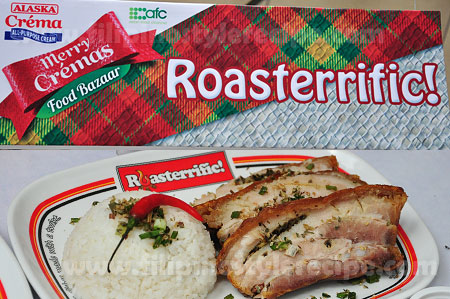 and their home of the best "Herb-a-licious" Lechon which is a fusion of the famous cebu lechon and the ilocano favorite bagnet.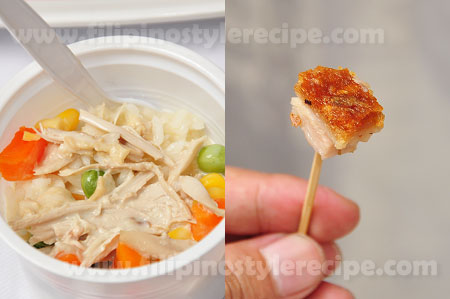 I also tried their Chicken Ala King which was made creamier with Alaska product.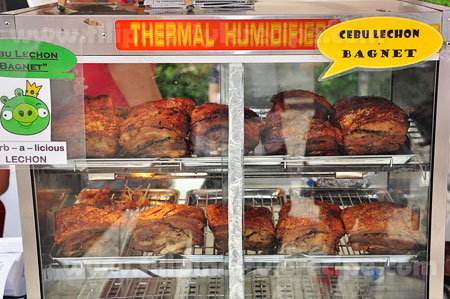 I also had a bite of their lechon and honestly they're really crunchy!
Contact Number: 881 6088
Roasts Coffee and Bibingka
Roasts Coffee and Bibingka located in Katipunan Avenue offers special bibingka and puto bumbong. You can have their bibingka for Php 95.00 and mini bibingka for Php 65.00 while the puto bumbong is Php 65.00 for 4 sticks.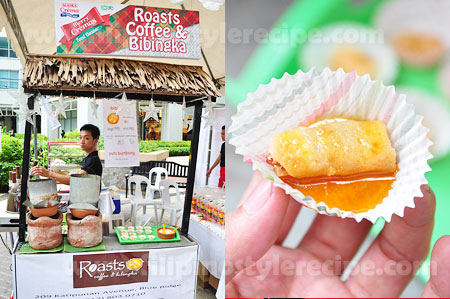 Their entry for the Alaska Crema holiday goodies was turon with salted caramel.
Contact Number: 0917 803 0710
Suzhou Dimsum
Suzhou Dimsum is the best choose if you're looking for Xiao Long Bao. This Chinese restaurant is located in Greenhills San Juan and Araullo St. Mandaluyong City.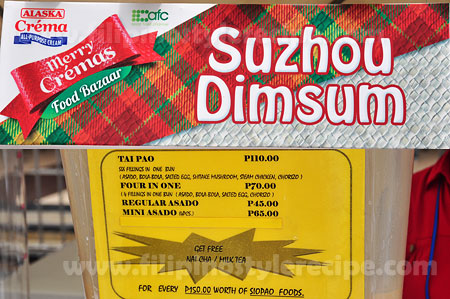 During the food bazaar they gave us their version of Nai Cha and Tai-Pao which is available in asado, bola bola, salted egg, mushroom and steamed chicken.
Contact Numbers: 721 6105, 717 1153
Sweet Success
Sweet Success from Binondo Manila offers cakes and cupcakes. They presented some of their best sellers,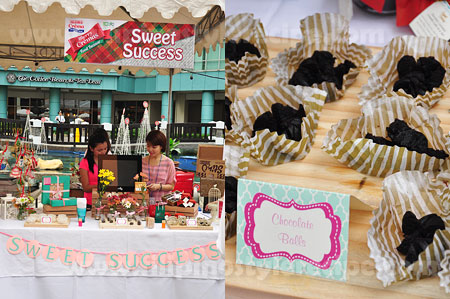 Chocolate Balls php 290.00(21's), Php 170.00(12's)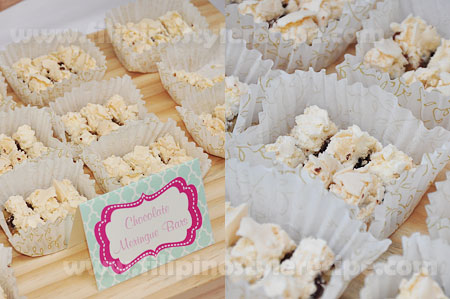 Chocolate Meringue Bars Php 400.00(20's), Php 205.00(10's)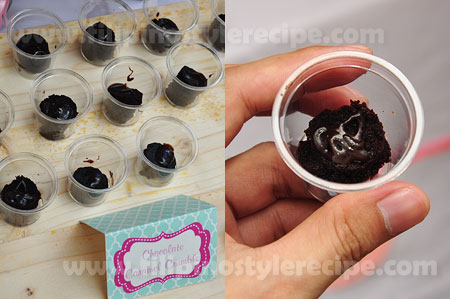 Chocolate Caramel Crumble for Php 110.00
Contact Number: 244 8790
Email : sweet_success888@yahoo.com
The Pastry Parlour
The pastry parlour is an online pastry shop that specializes in homemade customized cakes, cupcakes and other desserts for birthdays, weddings, christenings, showers, graduation, corporate events, anniversaries, etc.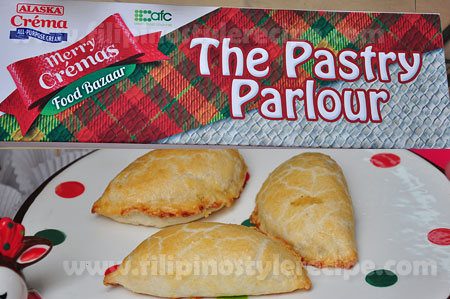 Chicken Pie consist with Alaska product.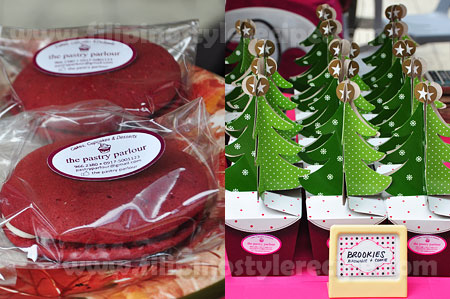 Contact Numbers: 0917 500 1123, 02 966 2380
Email: pastryparlour@gmail.com
The Serving Spoon Manila
The Serving Spoon Manila also participated in food bazaar,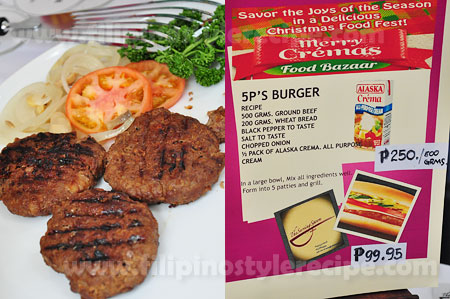 they let us to try their version of burger patties called "5P's Burger" which came from the initials of the owner's sons and daughters.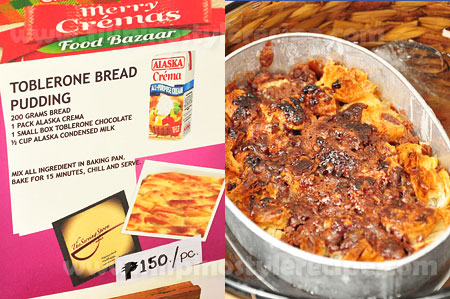 They have "Toblerone Bread Pudding" as their entries for Merry Cremas Food Bazaar.
Contact Numbers : +63 905 322 6008, +63 2 881 9594
Email : Patrickandres03@yahoo.com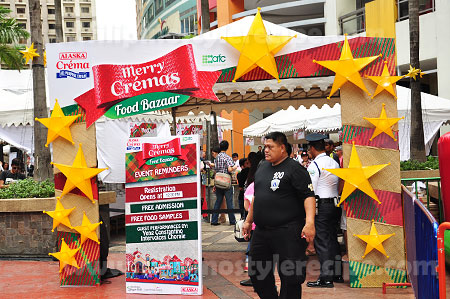 Many shoppers lined up at the entrance of the food bazaar for the free taste of holiday goodies prepared by participating merchants. Most of the products are ideal for gifts and giveaways to special someone and friends this coming Holiday.
Congratulations to Joanie's Cupcake, Malagos Dark Chocolate and Hey Gourmet for winning the Merry Cremas Food Bazaar.
Disclaimer: This article is sponsored by Alaska Crema. The information and opinions expressed here represent the author. Image courtesy of Filipino Style Recipe.