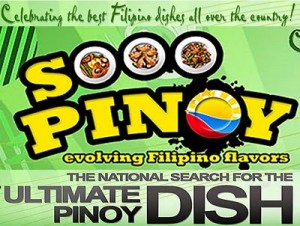 To celebrate the diversity of Filipino cuisine, Unilever Food Solutions (UFS) came up with Sooo Pinoy. Created in partnership with Philippine Daily Inquirer, the Philippine Star, and Team Manila. The advocacy aims to help Filipinos find identity through food, feeding national pride through an appreciation and awareness of Filipino cuisine.
Discovering cultural identity for Filipinos is a never-ending quest. After years of colonization by the Spanish, American and Japanese, naturally Filipino cannot help but bring up the question of identity.
This diversity manifests itself in all aspects of Filipino culture – even in cuisine. We love for food means a love for variety, be it for Sinigang, Sisig, Pinakbet, Kare-Kare, Crispy Pata, or even balut. Being Filipino means never being afraid to explore the abundance of flavors and styles of cooking that are available out there.
The Sooo Pinoy Facebook page regularly updates its members about restaurants that have a surprising but refreshing take on our favorite dishes. It opens up a world of exciting, delicious discoveries that are sure to change their view on Filipino food. From Herencia Café's inventive recipe for Pinakbet pizza to Leslie's renowned Sizzling Bulalo, we can see how Filipino cuisine continually evolves and invents itself while still keeping in touch with traditional roots.
The voting app is a more concrete way for Filipinos to assert their identity. Choose which places cook the best Pinakbet, Bulalo or Kare-Kare, and be among the many to let your taste buds be heard. Invite family and friends to join in the fun of picking the best restaurant and at the end of the month, your choice could be featured in the Philippine Daily Inquirer and the Philippine Star.
As the Sooo Pinoy community grows, more Filipinos discover cultural identity in the diversity of our food. The advocacy cultivates a sense of unity and togetherness among people; not only do Filipinos get to eat delicious food, but they also learn about their roots and of what makes them uniquely Pinoy.