Filipino Style Recipe: adobong tilapia is another simple yet delicious dish. The fish cooked and simmered in a blend of soy sauce, vinegar, bay leaves, sugar, salt and peppercorns.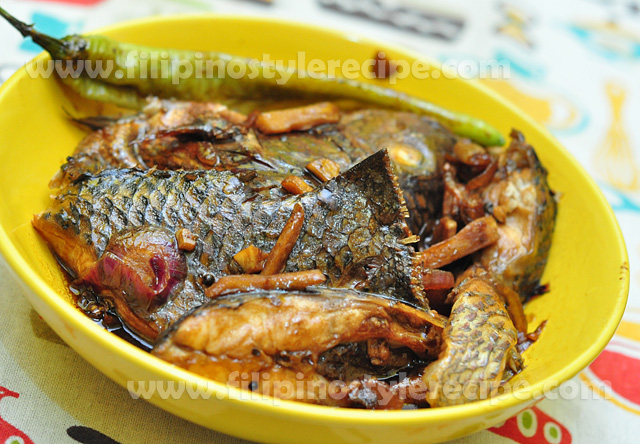 Ingredients:
2 medium-sized tilapia, slice into serving pieces
1/4 cup soy sauce
1/4 cup vinegar
1/2 cup water
5 cloves garlic, minced
1 onion, chopped
1 thumb-sized ginger, chopped
2 pieces bay leaves
1/2 teaspoon peppercorns
2 pieces green chili
sugar, salt and pepper to taste
3 tablespoons vegetable oil
Procedures:
1. In a pan, arrange half of garlic, onion and ginger.
2. Arrange tilapia then pour water, soy sauce, vinegar and vegetable oil.
3. Add remaining garlic, onion, ginger, bay leaves and peppercorns.
4. Bring to boil over medium heat then add green chili. Adjust seasoning according to taste.
5. Continue cooking and simmer until the sauce almost absorbed.
6. Transfer to serving plate then serve with steamed rice.