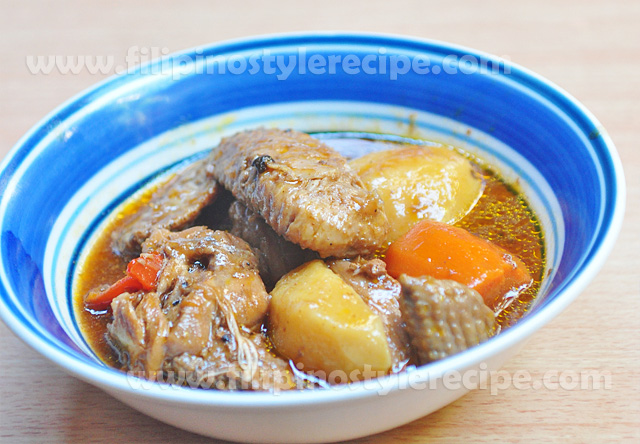 Ingredients:
3/4 kilo chicken, cut into serving pieces
250 grams tomato sauce
2 cups chicken stock
1 large potato, quartered
1 large carrot, sliced
1 large bell pepper, sliced
4 cloves garlic, minced
1 medium onion, diced
2 pieces bay leaves(laurel)
10 pieces peppercorns
1 teaspoon sugar
Salt and pepper to taste
4 tablespoons cooking oil
1/4 cup soy sauce
1/2 lemon or calamansi juice
Procedures:
Part 1
1. In a bowl, marinate the chicken in soy sauce and lemon juice for 30 minutes.
Part 2
1. In a pan, heat oil then fry potato and carrots until light brown. Remove and set aside.
2. Pan-fry the chicken until the color turns light brown. Remove and set aside.
3. Saute garlic and onions then add chicken, tomato sauce, chicken stock, bay leaves and peppercorns. Simmer for 15 minutes.
4. Add the potato and carrots and bell pepper. Season with salt, sugar and ground black pepper.
5. Simmer for another 3 minutes then remove from heat.
6. Serve with steamed rice. Enjoy!