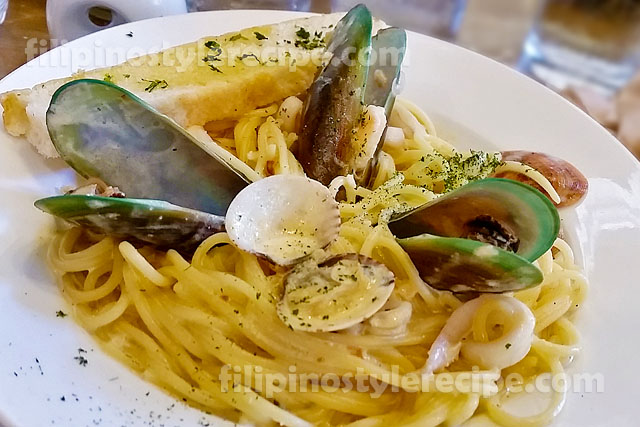 Ingredients:
400 grams spaghetti pasta or any pasta, cooked according to package instruction
250 grams fresh shrimp, peeled and deveined
200 grams squid, sliced diagonally
15 pieces mussels, cleaned
10 pieces clams, cleaned
1/2 cup white wine (optional)
4 cloves garlic, minced
1 onion, chopped
salt and pepper to taste
grated Parmesan cheese
2 tablespoons olive oil
chopped parsley
Alfredo Sauce:
1/2 cup butter
1/2 cup cornstarch
1 pack all-purpose cream
1/2 cup full cream milk
1/2 cup grated Parmesan cheese
Procedures:
Part 1
1. In a same pan, melt butter and add cornstarch. Mix until well blended.
2. Add all purpose cream, full cream milk, grated Parmesan cheese.
3. Mix well until thickens. Set aside.
Part 2
1. In a pan, heat olive oil then saute garlic and onion.
2. Add shrimp then cook for a minute.
3. Add squid, mussels and clams then cook for another 3 minutes.
4. Add white wine then bring to boil.
Part 3
1. Combine seafood and white sauce then stir until blended. Adjust seasoning according to taste.
2. Add cooked pasta and stir. Add Parmesan cheese then continue cooking for a minute.
3. Transfer to serving plate then garnish with chopped parsley.
4. Serve with toasted garlic bread.
Note: Alfredo sauce is also available in grocery stores.