Filipino Style Recipe: porkchop aloha is another quick and easy sweet pork dish. This dish is consists of fried porkchops and pineapple slices cooked in a blend of pineapple juice, soy sauce, honey and brown sugar.
Estimated time of preparation and cooking: 30-40 minutes
Good for 10 servings
Ingredients: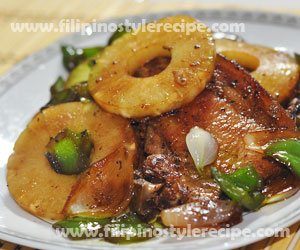 10 pieces porkchops
1 big can pineapple slices/chunks/tidbits, reserve the juice
1 white onion, diced
1 green bell pepper, diced
1/2 cup sweet soy sauce
2 tablespoons butter
salt and pepper to taste
1/2 cup honey(optional)
2 tablespoons brown sugar(optional)
Procedures:
Part 1
1. In a bowl, season porkchops with salt and pepper.
2. In a non-stick pan, melt butter then fry porkchops for 5 minutes each side or until tender. Set aside.
Part 2
1. In a same pan, saute onion and bell pepper.
2. Pour pineapple juice, soy sauce, honey and brown sugar then bring to boil.
3. Add porkchops and pineapple slices. Cover and simmer for 2 minutes in low heat.
4. Adjust seasoning according to taste. Transfer to serving plate then serve.
Notes:
1. You may also used barbecue sauce.