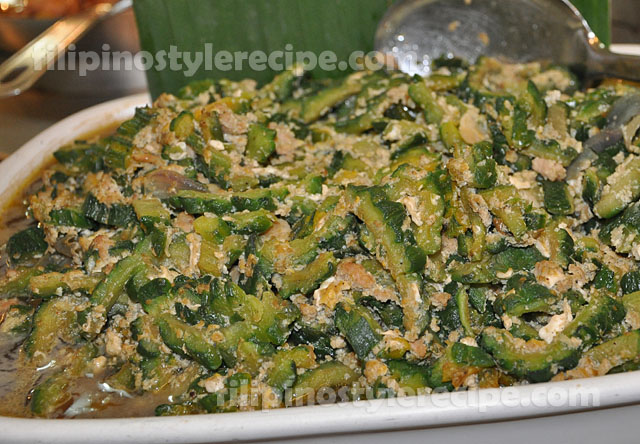 Ingredients:
300 grams beef sirloin, cut into thin strips
1 medium-sized bitter gourd(ampalaya), cut in half then removing the seeds and sliced crosswise
1/4 cup soy sauce
1 tablespoon cornstarch
1 tablespoon sugar
1 tablespooon oyster sauce
3 cloves garlic, minced
1 onion, chopped
1 thumb-sized ginger, julienned
2 tablespoons vegetable oil
salt and pepper to taste
2 pieces eggs, beaten
1 tablespoon sesame oil(optional)
Procedures:
Part 1
1. In a bowl, combine beef, soy sauce, cornstarch, sesame oil, sugar, salt and pepper then marinate for an hour.
2. In a separate bowl, combine bitter gourd, 1/4 cup salt and enough water then soak for 15 minutes. Rinse, drain and set aside.
Part 2
1. In a pan, heat oil then stir fry marinated beef for 5 minutes. Remove the beef from the pan and set aside.
Part 3
1. In a same pan, saute garlic, onion and ginger.
2. Add bitter gourd, water and oyster sauce then simmer for 5 minutes or until tender.
3. Put back beef then season with salt and pepper to according to taste.
4. Add beaten eggs then stir cook until eggs are firm.
5. Turn off heat then serve with steamed rice.