Filipino Style Recipe: stir fried shrimps with asparagus and baby corn is another simple yet healthy dish. Normally the shrimps stir fry with asparagus, baby corns then season with oyster sauce then garnish with parsley.
Estimated time preparation and cooking: 15 minutes
Good for 2-3 persons
Ingredients: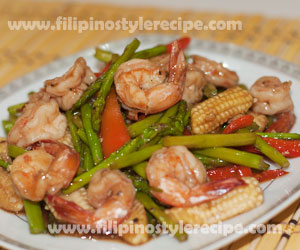 300 grams asparagus, cut into 1 inch
100 grams baby corn, sliced diagonally in half
400 grams shrimp, peeled and deveined
2 tablespoons olive oil
2 cloves garlic, minced
2 teaspoons oyster sauce
2 teaspoons vinegar
1 teaspoons sugar
salt and pepper to taste
1 red bell pepper, sliced(optional)
1/8 cup parsley, chopped(optional)
Procedures:
1. In a pan, heat olive oil then saute garlic.
2. Add shrimp, salt and pepper. Stir for another minute.
3. Add asparagus, baby corn and bell pepper then stir for a few seconds.
3. Add the remaining ingredients then stir for 2-3 minutes until tender and crisp.
4. Transfer to serving plate then garnish with chopped parsley. Serve immediately.