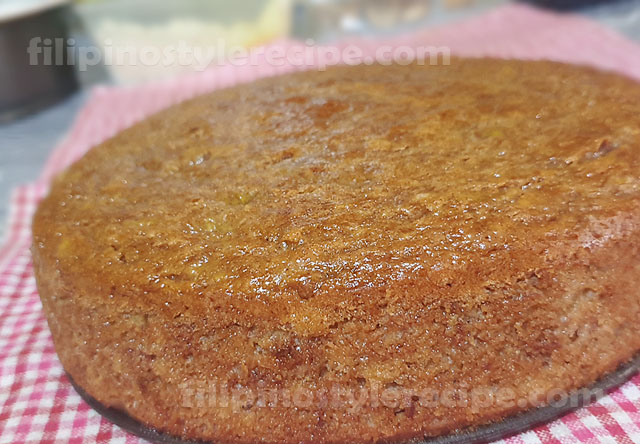 Ingredients:
1 cup milk mixed with 1 tbsp. vinegar
1/3 cup vegetable oil
1 1/3 cup white sugar
2 eggs
2 teaspoon vanilla extract
2 cups all purpose flour
1 teaspoon baking soda
1/8 teaspoon salt
2 teaspoon lemon juice
1 cup or 5 ripe bananas (lakatan) mashed
2 tablespoon cinnamon powder
Procedures:
1. in a mixing bowl, cream the oil and white sugar. beat in the eggs one at a time. Stir in the vanilla.
2. Sift together the flour, baking soda, cinnamon and salt.
3. Alternately blend in the flour and milk mixture into the sugar mixture. Fold in the mashed bananas.
4. bake in preheated oven at 120 degrees C for 50-60 mins or the until a toothpick inserted into the center of the cake comes out clean.
5. Remove from oven and place directly into freezer for at least 15 minutes to stop the cooking. This will make the cake very moist.