Filipino Style Recipe: This recipe is a combination of our favorite Nutella and healthy oatmeal. It is very easy to prepare, perfect snack for you and your kids.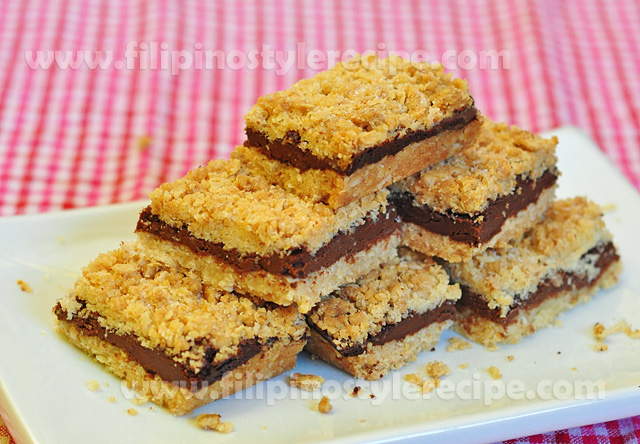 Yields: 16 bars
Ingredients:
1 1/2 cup all purpose flour
1 cup original flavor quick cooking oatmeal
1/2 cup brown sugar
1/2 cup granulated sugar
1 teaspoon baking powder
1 cup butter, melted
1 cup Nutella
1 tablespoon confectioner's sugar
Procedures
1. In a mixing bowl, combine the flour, oatmeal,sugar, and baking powder. Add the butter and mix until well combined.
2. Pour 3/4 of the mixture in an 8×8 baking pan and press down to make a compact base.
3. Pour the Nutella over the mixture and spread all over.
4. Top with the remaining oatmeal mixture.
5. Bake in preheated oven at 350 Farenheit for 20 minutes.
6. Remove from oven and dust with confectioner's sugar. Cut into bars and serve.