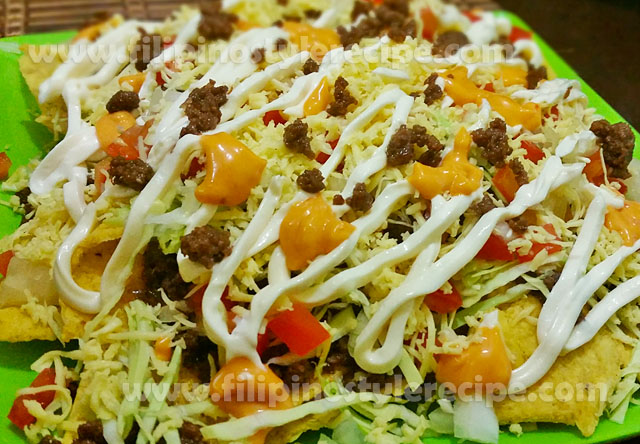 Ingredients:
1 large onion, minced
1/2 kilo ground beef
1 tablespoon cooking oil
1 pack 40g mcCormick Taco seasoning mix
2 piece tomatoes, minced,
1 cup finely chopped cabbage
1 cup grated cheddar cheese
2 tablespoon sour cream
4 tablespoon cheese spread
1 pack nachos chips
Procedures:
1. In a bowl, combine the beef and the taco seasoning mix. Heat oil in a pan over medium heat and saute onion until translucent. Add the beef and continue suateing until the beef is browned and cooked, around 10-15 minutes. Transfer the beef in a plate with tissue to absorb excess oil.
2. In a big flat serving plate, arrange the nachos. Top with desire amount of grated cheese, beef, cabbage, tomatoes. Drizzle with sour cream and cheese spread.