Filipino Style Recipe: Stuffed Pork Bell Pepper is a simple and easy to do recipe. You may add more or less cheese based on your preference.
Ingredients: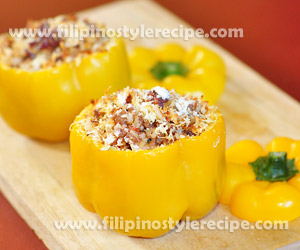 2 big yellow bell pepper, cut the top and remove the seeds
1/4 kilo ground pork
1 medium white onion, minced
3 pieces tomatoes, minced
1 teaspoon Worcestershire sauce
1 tablespoon chopped parsley
1/4 cup cooked rice
4 tablespoon cheddar cheese, shredded
3 tablespoon parmesan cheese, shredded
salt and pepper to taste
Procedures:
Part 1
1. In a large pot, boil water with salt enough to cover the bell pepper.
2. Put the bell pepper on the boiling water then let it boil for 5 minutes.
3. Remove bell pepper from pot, drain, and sprinkle inside with salt. Set aside.
Part 2
1. In a pan, saute onions and ground pork until browned.
2. Add the tomatoes and cook for 5 minutes. Season with salt and pepper.
3. Add cooked rice, worcestershire sauce and parsley. Stir cook until well combined.
4. Remove from heat and stir in parmesan and cheddar cheese.
Part 3
1. Stuff each bell pepper with the cooked pork mixture and top with remaining cheese.
2. Cook in preheated oven at 350 degrees Fahrenheit for 30 minutes or until cheese melted.
3. Remove from oven, serve, and enjoy!