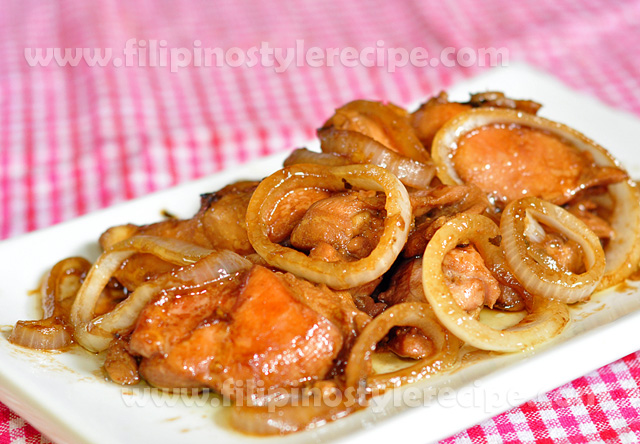 Ingredients:
1/2 kilo chicken thigh fillet
1 tablespoon calamansi juice
3 gloves garlic, minced
1 onion, sliced in rings
3 tablespoons soy sauce
3 tablespoons cooking oil
salt and ground pepper to taste
Procedures:
Part 1
1. In a bowl, combine chicken, calamansi, garlic, soy sauce, salt and pepper. Marinate for 15 minutes inside the fridge.
Part 2
1. In a pan, heat cooking oil over medium heat. Lightly fry the onion rings. Remove from pan and drain. Set aside
Part 3
1. In the same pan, fry garlic then add the marinated chicken, stir-fry until tender and start to sizzle.
2. Transfer to a serving platter including the oil and sauce.
3. Garnish with onion rings. Serve hot and enjoy!