Filipino Style Recipe: Stir Cooked Bok Choy and Tofu is another simple yet healthy dish. It is consists of bok choy and tofu then we add a choice of vegetables as extender. We cooked together the tofu and vegetables in oyster sauce, oyster sauce, water and sesame oil. We recommend this recipe for vegetarian, health-conscious or those on diet.
Estimated time of preparation: 5 minutes
Estimated time of cooking: 8 minutes
Ingredients: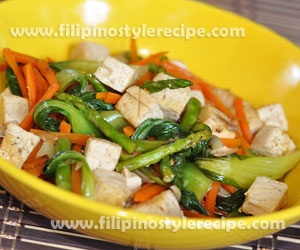 a bunch of bok choy, bottom part removed
300 grams firm tofu, cut into cubes
6 stalks asparagus, cut into serving pieces (optional)
1 medium-sized carrot, peeled and julienned (optional)
3 cloves garlic, minced
1 onion, chopped
salt and pepper to taste
Sauce Mixture:
1/4 cup water
1 tablespoon oyster sauce
1 tablespoon soy sauce
1 tablespoon sesame oil
Procedures:
Part 1
1. In a bowl, combine water, oyster sauce and soy sauce then mix well. Set aside.
Part 2
1. In a pan, heat oil then fry tofu until light brown, drain and set aside.
Part 3
1. In a same pan, reduce oil then sauce garlic and onion.
2. Add bok choy, asparagus, carrots and tofu then pour sauce mixture.
3. Simmer in a low heat for 3-5 minutes or until vegetables are tender.
4. Adjust seasoning according to taste then transfer to serving plate. Serve immediately.