Filipino Style Recipe: braised beef is popular mostly in Chinese cuisine. Normally the beef cooked with soy sauce, sugar, star anise and cornstarch to thickens the sauce.
Estimated time of preparation: 15 minutes
Estimated time of cooking: 2 hours and 20 minutes
Good for 4-6 servings
Ingredients: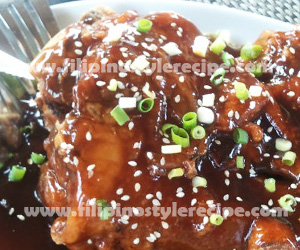 1 kilo beef, cut into cubes
1/4 cup cornstarch(dissolve in 1/4 cup water)
5 gloves garlic, chopped
1 onion, chopped
1/4 cup soy sauce
1/4 cup sugar
1/2 tablespoon peppercorns, crushed
2 pieces star anise
2 pieces bay leaves
salt and pepper to taste
1 medium-sized carrots, cut into cubes(optional)
1 medium-sized red bell pepper, sliced(optional)
1 cup green beans, trimmed and sliced(optional)
spring onions for garnishing(optional)
Procedures:
1. In a large pot, arrange beef and add garlic, onion, soy sauce, sugar, peppercorns, star anise, bay leaves and water.
2. Cover and bring to boil for about 1-2 hours or until the beef is tender. Add water if necessary.
3. Add cornstarch mixture and adjust seasoning with salt and pepper.
4. Add carrots, green beans and bell pepper, simmer for 3 minutes or until sauce has thickened.
5. Remove from heat then garnish with spring onions. Serve with steamed rice.