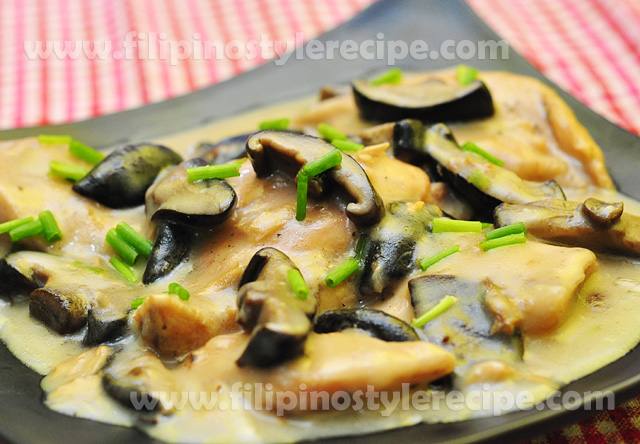 Ingredients:
350 grams chicken fillet, cut into serving pieces
1 cup shiitake mushrooms, sliced
1/4 cup cream of mushroom
1/2 cup chicken stock
1/2 teaspoon ginger powder
1/2 teaspoon garlic powder
3 cloves garlic, minced
1 white onion,chopped
salt and pepper to taste
3 tablespoons vegetable oil
Cooking oil for frying
2 tablespoons spring onions
Procedures:
Part 1
1. Season chicken fillet with ginger powder, garlic powder, salt and ground pepper. Set aside for 10 minutes.
2. In a pan, heat oil then fry chicken fillet over medium heat until light brown. Remove and set aside.
Part 2
1. Saute garlic and onions. Add shiitake mushrooms then cook for 3 minutes.
2. Pour chicken stock then bring to boil.
3. Put back chicken then add cream of mushroom and spring onions.
4. Season with salt and pepper, keep stirring then continue cooking until almost thicken.
5. Transfer to serving plate then sprinkle with remaining spring onions. Serve.