Filipino Style Recipe: Ginisang corned beef or sauteed canned corned beef is another popular breakfast by most Filipinos. This dish is simple and easy to prepared, normally the corned beef sauteed with garlic and onion then cooked with fried potatoes. Ginisang corned beef is usually served with fried rice(sinangag) and egg(itlog) also known as "Cornsilog".
Estimated time of preparation: 10 minutes
Estimated time of cooking: 10 minutes
Good for 3-4 servings
Ingredients: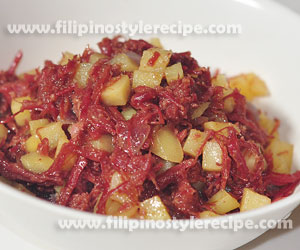 1 can(454 grams) corned beef(I prefer purefoods or delimondo)
1 large size potato, diced
2 large size onion, cut into rings
3 gloves garlic, minced
2 tablespoons cooking oil
salt and pepper taste
Procedures:
1. In a pan, heat oil and stir fry onion until translucent. Remove from the pan and set aside.
2. In a same pan, stir fry potatoes until golden brown then add garlic until light brown.
3. Add corned beef and stir cook for 3 minutes. Add a little water if desired.
4. Adjust seasoning according to taste then add stir fried onion.
5. Remove from heat then serve with steamed or fried rice.