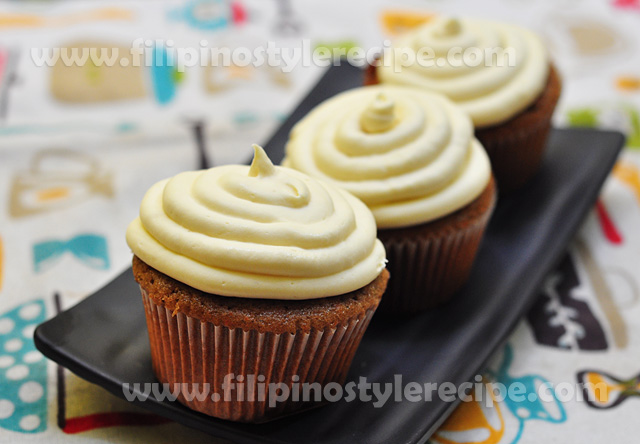 Ingredients:
For the cupcake:
2 eggs, lightly beaten
1 1/8 cups white sugar
1/3 cup brown sugar
1/2 cup vegetable oil
1 teaspoon vanilla extract
2 cups shredded carrots
1/2 cup crushed pineapple
1 1/2 cups all-purpose flour
1 1/4 teaspoons baking soda
1/2 teaspoon salt
1 1/2 teaspoons ground cinnamon
For the frosting:
1 (8 ounce) package cream cheese, softened
1/4 cup unsalted butter, softened
1 teaspoon vanilla extract
1/2 teaspoon orange extract
1 cup confectioners' sugar
Procedures:
1. In a mixing bowl, beat together the eggs, white sugar, and brown sugar. Mix in the oil and vanilla. Fold in carrots and pineapple.
2. In a separate bowl, mix the flour, baking soda, salt, and cinnamon. Mix flour mixture into the carrot mixture until evenly moist. Fill the prepared cupcake cups to almost full.
3. Bake in preheated oven at 350 degrees Fahrenheit for 25-30 minutes. Remove from oven and let it cool before frosting.
4. To prepare the frosting,in a medium bowl, cream together the cream cheese and butter until creamy. Mix in the vanilla and orange extract, then gradually stir in the confectioners' sugar.