Filipino Style Recipe: I just happened to have some yogurt in the fridge so I looked for a recipe where I can use it. Luckily, I saw this recipe and I just knew this would be a good muffin. The yogurt made the muffins so moist and the chocolate chip/cinnamon topping gave them some twist. I also added chopped pecans on the toppings for some crunch.
Estimated time of baking and preparation: 30 minutes
Good for: 12 muffins
Ingredients: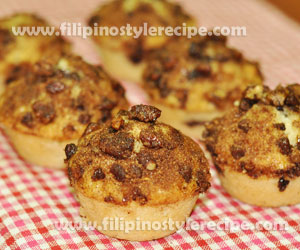 1 cup plain yogurt
1 teaspoon baking soda
2 eggs
1/2 cup oil
2 teaspoon vanilla extract
2 cups flour
1 cup white sugar
1/2 teaspoon baking powder
1/2 teaspoon salt
1/4 cup mini chocolate chips
Toppings:
2 tablespoon brown sugar
1 teaspoon ground cinnamon
2 tablespoon mini chocolate chips
2 tablepoon chopped nuts (peanuts, walnuts, or pecan will do)
Procedures:
Part 1
1. In a medium bowl, combine yogurt and baking soda.Mix and set aside.
2. In another bowl, mix eggs, oil, and vanilla until well combine.
3. In a large bowl, mix flour, sugar, baking powder, and salt. Add the egg mixture in three parts, mixing slightly after each addition. Add the yogurt mixture and stir until just moistened. Fold in the chocolate chips
4. Pour batter in greased muffin pan.
Part 2
1. In a bowl, combine all ingredients for the toppings. Sprinkle on top of the muffins.
2. Bake muffins in preheated oven at 350 degrees Fahrenheit for 20 minutes.