Filipino Style Recipe: Chocolate cupcakes is a small cake that is usually bake in paper liner or aluminum cup. The cupcakes is designed to one person and have many varieties or flavor then topped with frosting or other cake decorations.
Estimated time of preparation: 15 minutes
Estimated time of baking: 20-25 minutes
Good for 22 cupcakes
Ingredients: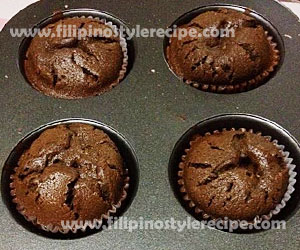 1 & 1/2 cups flour
1 & 1/2 teaspoons baking powder
3 tablespoons cocoa powder
3/4 cup unsalted butter, softened
1 cup granulated sugar
3 raw eggs
1 & 3/4 cup fresh milk
1 teaspoon vanilla
1/4 cup dark chocolate chips(optional)
Procedures:
Part 1
1. In a mixing bowl, combine flour, baking powder, cocoa powder and dark chocolate chips then mix well. Set aside.
Part 2
1. In an electric mixer, combine butter and sugar until well blended.
2. Add eggs, milk and vanilla then mix until to blended.
3. Gradually add the flour mixture then mix until well combined.
Part 3
1. In a muffin pan, grease with cooking spray or place paper cups.
2. Pour batter into each cups until 2/3 full.
3. Preheat oven to 350 degrees Fahrenheit then bake for 20 minutes or until golden brown.(Cupcakes is done when a toothpick inserted in the center comes out clean.)
4. Remove from the oven and let it cool before serving.