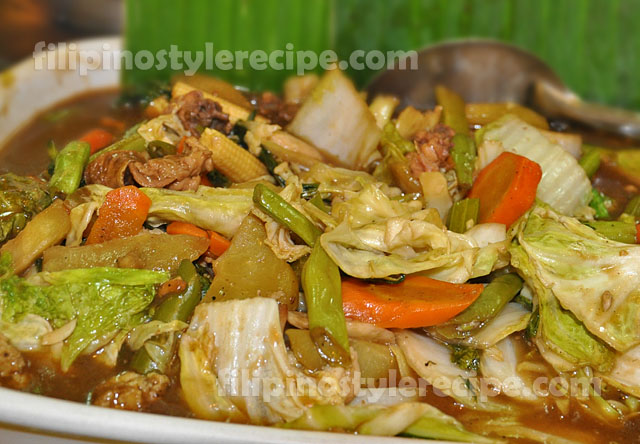 Ingredients:
1/4 kilo pork, cut into small cubes
1/4 kilo chicken liver and gizzard, sliced to small pieces(optional)
1/4 kilo shrimp, boiled and peeled
1 dozen quail eggs, boiled and shelled
12 pieces baby corn, sliced diagonally in half
100 grams snow peas(sitsaro)
1 piece medium carrot, sliced thinly
1/4 kilo cabbage, chopped 1 1/2″ squares
1/4 kilo broccoli or cauliflower, break into flowerettes
2-3 stalks leeks(kutsay), chopped 2″ long(optional)
2-3 stalks celery(kinchay), chopped 1″ long
1 piece red bell pepper, cut in strips
1 piece green bell pepper. cut in strips
2 to 3 tablespoons corn oil or vegetable oil
5 cloves garlic, diced
1 medium onion, minced
2 cups meat broth(Pork or Chicken stock)
1 teaspoon soy sauce or fish sauce
1 tablespoon oyster sauce
3 teaspoons sesame seed oil(optional)
2 teaspoons cornstarch, dissolved in 1/4 cup of water
1 teaspoon sugar
Salt and pepper, as needed
Procedures:
Part 1
1. Simmer pork and remove scum that rises to the surface. Save the broth and set aside.
Part 2
1. In a pan, saute the garlic and onion.
2. Add the pork, chicken liver and gizzard.
3. Sprinkle lightly with salt and pepper.
4. Continue sauteing until pork and chicken giblets is slightly brown.
5. Add 1 cup meat broth, simmer for 15 minutes or pork and chicken giblets are cooked.
Part 3
While waiting, prepare the sauce:
1. In a small bowl, combine the soy sauce, oyster sauce, sesame seed oil, cornstarch and sugar.
2. Add the remaining cup of meat broth and dissolve the cornstarch.
Part 4
1. When the pork and chicken giblets is tender, add the shrimp and quail eggs.
2. Add the carrot, baby corn and then all the vegetables.
3. Add the sauce, stirring until it thickens.
4. Cook for about 10 minutes or until vegetables are done.
5. Add salt and pepper according to taste.
6. Serve hot with rice.