Filipino Style Recipe: vegetable chowder soup is a creamy and healthy vegetable dish that is made up of chopped vegetables like broccoli, potatoes and carrots cooked in a blend of flour, milk and cheese.
Estimated time of preparation: 15 minutes
Estimated time of cooking: 60-70 minutes
Good for 8-10 servings
Ingredients: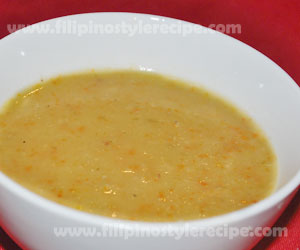 4 cups broccoli florets, chopped
2 medium potatoes, minced
2 medium carrots, minced
1-1/2 cups water
1 large onion, minced
4 cups evaporated milk
1/3 cup all-purpose flour
1 cup cheddar cheese, cubed
1 tablespoon olive oil
salt and pepper to taste
1 chicken bouillon cube(optional)
2 stalks celery, chopped(optional)
1 cup corn kernels(optional)
2 cups chicken fillet, cooked and shredded(optional)
Procedures:
Part 1
1. In a bowl, combine flour and 1 cup milk, mix until smooth. Set aside.
Part 2
1. In a saucepan, heat oil then saute onion.
2. Add celery, carrots and potatoes then continue sauteing for 5 minutes. Add a little water if needed.
3. Pour flour mixture, milk, chicken bouillon, salt and pepper.
4. Add the other ingredients then simmer for an hour or until sauce thicken. Keep stirring.
5. Remove from heat and add cheese just until melted. Serve.