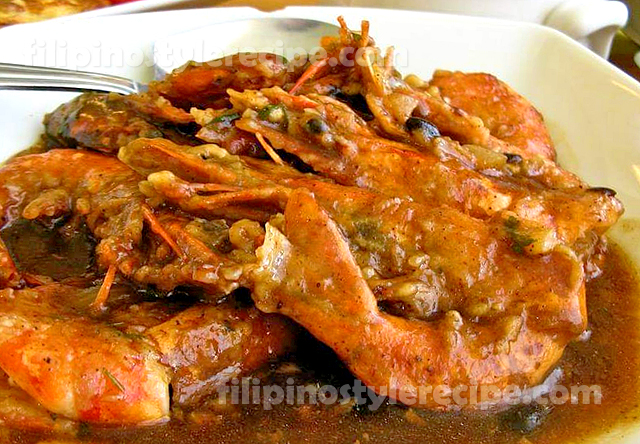 Ingredients:
1/2 kilo Prawns, cleaned
3 gloves garlic, minced
1 onion, diced
1 red bell pepper, diced
1/4 cup tomato sauce
2 tablespoons hot sauce
2 tablespoons soy sauce
1/2 tablespoon cornstarch or flour(dissolved in 1/2 cup water)
3 tablespoons vegetable oil
salt and pepper to taste
Chopped spring onion for garnishing(optional)
Batter:
1/2 cup flour
a dash of salt
1 raw egg
1/2 cup water
Procedures:
Part 1
1. 1. In a bowl, combine flour, salt, pepper, egg and water to make a smooth batter. Stir to mix well.
2. Dip shrimp into batter then hold it up to drain well.
3. Deep fry shrimps until light brown. Drain and set aside.
Part 2
1. In a pan, heat oil and saute garlic and onion.
2. Add bell pepper then continue sauteing for a minute.
3. Add tomato sauce, hot sauce, soy sauce and dissolved flour then simmer for 3 minutes or until thicken.
4. Add shrimps then season with salt and pepper then cook for 2 minutes or until tender. Garnish with spring onions.
5. Transfer to serving plate then serve immediately with garlic rice.