Filipino Style Recipe: Chicken Corn Chili is another mouth-watering chicken dish consist of shredded chicken, corn, chili and cream. This can be served as filling in pita bread or with steamed rice.
Ingredients: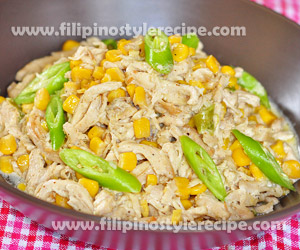 3/4 kilo chicken breast
1 cup corn kernel
3-4 pieces green chili, chopped
3 cups chicken stock
6 cloves garlic, minced
1 medium-sized onion, chopped
1/2 teaspoon cumin
1/4 cup chopped cilantro
130 ml all purpose cream
Parmesan cheese
3 tablespoons vegetable oil
fish sauce or salt and ground pepper to taste
Procedures:
1. In a pot, boil water with salt then add chicken and cook for 5 minutes or until tender.
2. Remove chicken and reserve the stock. Shred the chicken using fork. Set aside.
Part 2
1.In a wok, heat oil then sauce garlic and onion.
2. Add half of chopped chili, shredded chicken, cumin and ground pepper
3. Pour chicken stock, corn kernel, cilantro then simmer until reduced.
4. Pour cream, cheese, remaining chopped chili then simmer for a minute.
5. Adjust seasoning according to taste then continue cooking until almost thickened.
6. Remove from heat then serve with pita bread or steamed rice.