Filipino Style Recipe: Siopao is a Chinese steamed buns that is become popular for many Filipinos. Asado and bola-bola are the most popular variety of siopao. Siopao asado is made up of pork meat cook in soy sauce, oyster sauce, hoisin sauce and cornstarch until thickens. Scoop enough asado in the middle of dough then seal on top. Steam for 20 minutes then serve with siopao sauce.
Ingredients: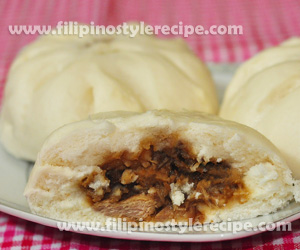 Asado Filling:
500 grams pork loin, cut into small pieces
2 tablespoons soy sauce
2 tablespoons hoisin sauce
2 tablespoons brown sugar
2 tablespoons cornstarch(dissolved in 1/4 cup water)
3 gloves garlic, minced
1 tablespoons vegetable oil
2 tablespoons oyster sauce
Dough:
2 1/2 teaspoons dry yeast
1/2 white sugar
2 cups warm water
5 cups all purpose flour
1 teaspoon baking powder
1 tablespoon shortening
1/2 teaspoon salt
Ingredients:
Part 1(Asado Filling)
1. In a pan, heat oil then saute garlic. Add meat then cook until light brown.
2. Add soy sauce, oyster sauce, water and sugar then simmer for an hour or until becomes really tender. Add more water if necessary.
3. Add hoisin sauce and dissolved cornstarch then stir cook until thickens. Remove from heat then set aside.
Part 2(Dough)
1. In a large bowl, dissolved yeast and sugar into warm water then set aside for 20 minutes.
2. In a separate bowl, combine flour, baking powder, shortening, salt and yeast mixture then mix until well blended.
3. Knead the combined mixture until becomes smooth and elastic.
4. Transfer in a greased bowl then cover and set aside for 2 hours or until it rises.
5. Knead the dough again then divide into serving pieces.
6. Form each piece into a ball then flatten using rolling pin or your palm.
Part 3(Assembly and Cooking)
1. Scoop enough filling in the middle of each dough then seal on top.
2. Place wax paper underneath of each dough then steam for 20 minutes. Serve with siopao sauce.