Filipino Style Recipe: Melon Milk Drink is another refreshing beverage and usually serve during afternoon or summer season. This drink is consists of melon, milk, sugar, and water then stir with ice.
Estimated time of preparation: 10-12 minutes
Ingredients: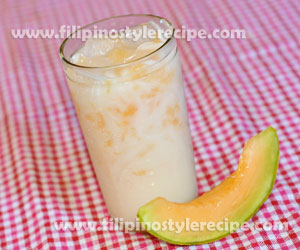 1 medium sized melon, scrape the meat
1 1/2 liters water
1 large can low fat or evaporated milk
sugar to taste
ice cubes
Procedures:
1. In a large pitcher, combine melon, milk and water.
2. Add sugar according to taste then serve with ice cubes. Enjoy!