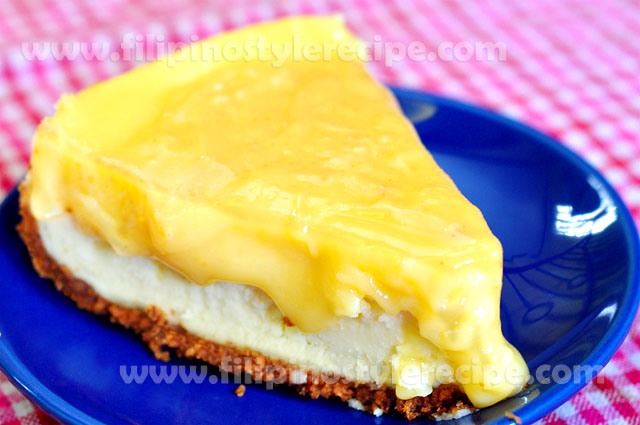 Ingredients:
For the Crust:
2 cups crushed grahams
6 tablespoon butter, melted
4 tablespoon sugar
For the Filling:
3 packs cream cheese, softened
1 1/4 cups white sugar
3 eggs
1 cup sour cream
3 tablespoon flour
3 teaspoon vanilla extract
Dulce de Leche:
1/2 cup condensed milk
1 cup evaporated milk
1 piece egg yolk
1 tablespoon cornstarch
1/2 teaspoon vanilla
1 tablespoon butter
Procedures:
Part 1 (Crust)
1. In a bowl, mix together the crushed grahams, butter and sugar until the mixture is moistened.
2. Press the mixture into round cake pan. Chill in the refrigerator while preparing the filling.
Part 2 (Filling)
1. In a large mixing bowl, beat the cream cheese and sugar until smooth. Add eggs, sour cream, vanilla and mix until well combined. Add flour and mix until just combined.
2. Pour the cream cheese mixture into the prepared crust.
3. Bake in preheated oven at 350 Fahrenheit for 60 minutes. After baking, let it stay in the oven for at least 60 minutes.
Part 3(dulce de leche):
1. In a saucepan combine the condensed milk, evaporated milk, egg yolk, and cornstarch. Mix until the egg and cornstarch are well blended.
2. Cook over medium heat while stirring consistently until mixture becomes thick around 20-30 minutes.
3. Remove from heat. Stir in vanilla and butter.Let it cool.
4. Top cheesecake with dulce de leche. Chill in the refrigerator until ready to serve.