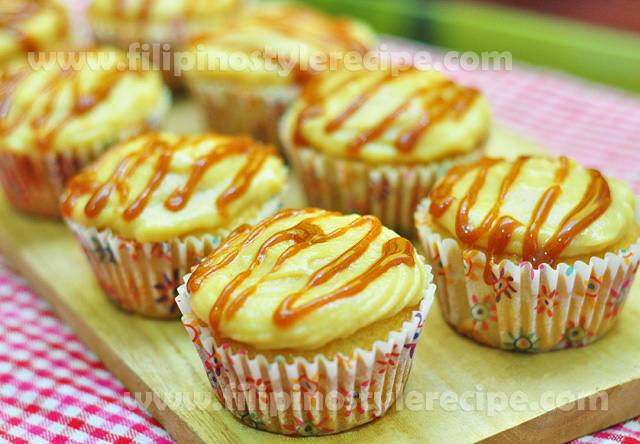 Good for 12 Cupcakes
Ingredients:
Dulce de Leche:
1/2 cup condensed milk
1 cup evaporated milk
1 piece egg yolk
1 tablespoon cornstarch
1/2 teaspoon vanilla
1 tablespoon butter
Cupcake:
1 cup all purpose flour
1 cup granulated sugar
1 teaspoon baking powder
1 teaspoon baking soda
1/2 teaspoon salt
1/2 cup milk
1 egg
1/4 cup vegetable oil
1 teaspoon vanilla extract
1/4 cup fresh lemon juice with 1/4 cup water
Procedures:
Prepare the dulce de leche:
1. In a saucepan combine the condensed milk, evaporated milk, egg yolk, and cornstarch. Mix until the egg and cornstarch as well blended.
2. Cook over medium heat while stirring consistently until mixture becomes thick around 20-30 minutes.
3. Remove from heat. Stir in vanilla and butter.
4. Let it cool.
Prepare the cupcake:
1.In a large mixing bowl, sift together flour, sugar, baking powder, baking soda and salt.
2. Add the milk, egg, oil, and vanilla extract. Mix until all ingredients are well blended.
3. Boil the lemon juice in a saucepan, remove from heat and immediately beat into the batter.
4. Fill cupcake liners until 3/4 full. Bake in preheated oven at 350 degrees Fahrenheit for 15-20 minutes.
5. Remove from oven and let it cool.
6. Top with the cooked dulce de leche.
7. You can also drizzle with salted caramel sauce.