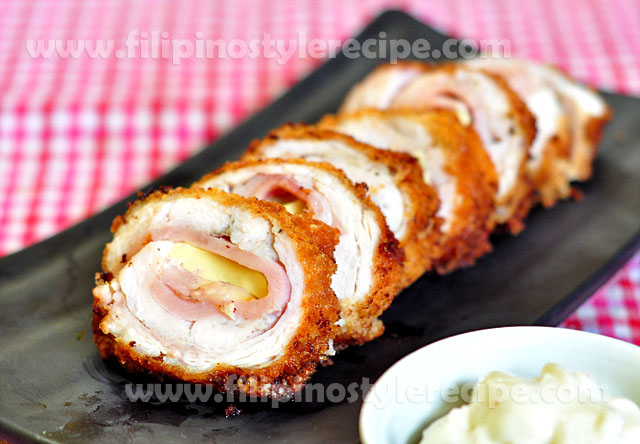 Ingredients:
10 pieces chicken fillet
10 slices cheddar cheese
10 slices sweet ham, sliced halves
2 raw eggs, beaten
1/2 cup all-purpose flour
salt and pepper to taste
1 cup bread crumbs
Cooking oil for frying
Procedures:
Part 1
1. Pound the meat using meat pounder, season with salt and pepper.
2. Arrange ham and cheese over the meat and then roll, secure with a thread or toothpick.
4. Dredge the meat in flour, dip again in egg-milk mixture then roll in bread crumbs. Set aside.
5. Repeat the procedures for remaining slices.
Part 2
1. Deep fry over low heat for 15 minutes or until golden brown and tender. Drain.
2. Slice the chicken cordon bleu and arrange on a platter. Serve with dipping sauce.