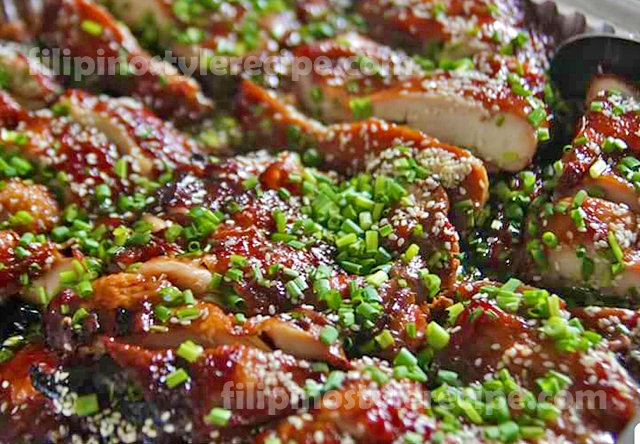 Ingredients:
500 grams chicken thighs deboned, skin-on
salt to taste
sesame seeds for garnishing
fresh spring onions, chopped (optional)
Marinade:
1/4 cup soy sauce
1/3 cup orange juice
3 tablespoons honey
1 teaspoon grated ginger
1 teaspoon sesame oil
Procedures:
Part 1
1. Lightly rub chicken thighs with a little salt.
2. In a non-stick pan over medium heat, pan-fry chicken thighs(skin-side down first) until both sides are light brown and tender. The skin should be almost crispy. Drain and set aside.
Part 2
1. Combine all marinade ingredients in a bowl.
2. In a sauce pan over low heat, pour marinade then bring to boil.
3. Add chicken thighs then stir to combine. Simmer until the sauce thickens.
4. In a serving plate, transfer and slice then chicken thighs then drizzle with the sauce. Sprinkle sesame seeds and fresh spring onions.
5. Serve immediately with steamed rice.