Filipino Style Recipe: Beef Mami is one of the most popular noodle soup dish that can be served during rainy or cold season, because of its hot and delicious soup and the tender of beef brisket gives warmth and comfort.
Ingredients: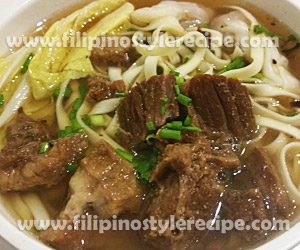 500 grams beef brisket, cut into serving pieces
200 grams Asian or egg noodles
1 water or beef stock
3 cloves garlic, minced
1 red onion, chopped
1 beef bouillon cube
3-5 pieces star anise
a bunch of Chinese cabbage or baby bok choy, cleaned and chopped
small handful of spring onion, chopped
3 tablespoons vegetable oil
salt and pepper to taste
Choices of toppings:
steamed dumplings
hard-boiled eggs
Procedures:
Part 1
1. Prepare noodles based on cooking instruction. Set aside.
Part 2
1. In a wok, heat oil then saute the garlic and onions.
2. Add beef brisket then cooked until color turns to light brown.
3. Add water, beef bouillon and star anise then simmer until beef is very tender. Add water if needed.
4. Season with salt and pepper according to taste. Keep warm.
Part 3
1. In a large bowl, arrange noodles and Chinese cabbage.
2. Pour soup then top with beef brisket and other toppings.
3. Sprinkle with spring onions. Serve immediately with fish sauce.