Filipino Style Recipe: Tom Yam or Thai Prawn Soup is a popular Thai soup dish. It consists of shrimps with lemon, fish sauce and some herbs and spices. I love tom yum soup but the only way to have it is in thai restaurants and usually, they are a bit pricey.While I was in the grocery I passed by this aisle with premixes and I decided to try one of the tom yum instant mix. I just added some of the ingredients to enhance the flavors and tadaaa! I have my budget friendly tom yum soup.
Ingredients: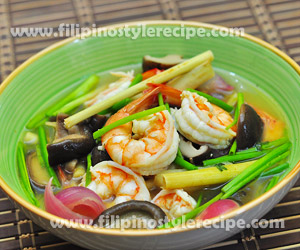 1/4 kilo medium-sized shrimps, washed, peeled, and deveined.(save the head)
1 can shitake mushrooms, halved (you can substitute with button mushroom)
2 stalks lemon grass(tanglad), cut into 2 inch stalks and pounded
1 pack instant tom yum soup mix
1 piece onion cut into quater
1 small ginger cut into small strips
1 tablespoon fish sauce(preferably Thai fish sauce)
2 cups water
Spring onion, cut into 1 inch sticks for garnish
Procedures:
Part 1
1. Put the shrimp head in boiling water and let it boil for 5 minutes to release the flavor. Strain the shrimp head out of the boiling water.
2. Add onions, ginger, mushroom, and lemon grass and let it boil for 3 minutes.
3. Add the tom yum soup mix.
4. Add the shimp and cook until color turns bright orange, around 3 minutes.Season with fish sauce.
5. Remove and transfer to serving bowl. Top with spring onions.