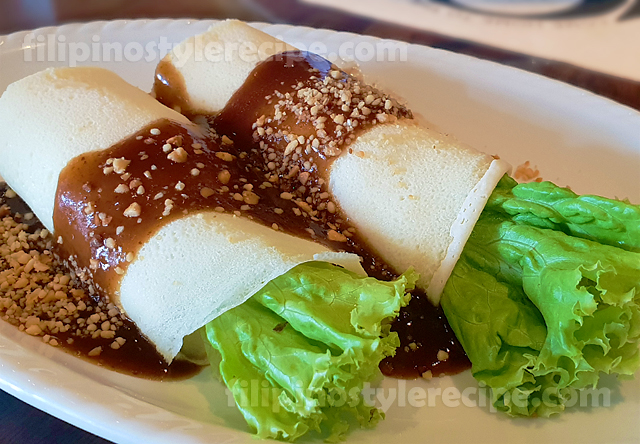 Ingredients:
Filling:
1/2 cup ground pork
2 cups carrots, shredded
2 cups cabbage, shredded
2 cups water chestnuts(sayote) or turnips(singkamas), shredded
1 cup baguio beans, shredded(optional)
1 tablespoon onion, minced
4 cloves garlic, minced
1 cup ground peanuts
Lettuce leaves
Lumpia wrapper
butter or cooking oil
Salt to taste
Sauce:
1/2 cup sugar
1 tablespoon cornstarch
1 cup chicken broth or water
2 tablespoons soy sauce
2 cloves garlic; minced
Procedures:
Cook the Filling:
1. In a saucepan, heat butter and saute garlic and onion.
2. Add ground pork, simmer until it changes color.
3. Season with soy sauce and sugar.
4. Add vegetables and continue cooking until it is half-done.
5. Adjust seasoning with salt according to taste. Set aside.
How to make the Sauce:
1. In a saucepan, pour chicken broth and bring to boil.
2. Add sugar and soy sauce then mix well.
3. Dilute the cornstarch in water and pour in the saucepan.
4. Boil in a very low fire, stirring occasionally until the sauce thickens.
5. Add the garlic. Set aside.
To Wrap the Filling:
1. On top of the lumpia wrapper, place a leaf of lettuce and 3 tablespoons of the mixture.
2. You may roll up folding one end and leaving other open or just roll up and place in the platter.
3. Garnish with sauce and minced peanuts.