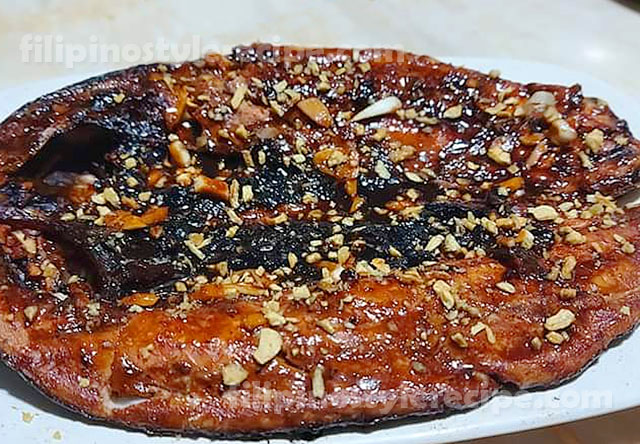 Ingredients:
1 large-sized boneless milkfish(bangus)
toasted garlic for garnishing
Marinade:
1 cup Teriyaki sauce
1 tablespoon grated ginger or ginger powder
6 cloves garlic, minced
1/4 cup lime or calamansi juice
3 tablespoons brown sugar
2 tablespoons olive oil
1 tablespoon grind black pepper
Procedures:
Part 1
1. In a bowl, combine marinade ingredients then mix well.
2. Add fish then cover and marinate for 30 minutes or overnight inside the fridge.
3. Pre-heat oven to 350 degrees Fahrenheit for 10 minutes.
Part 2
1. In a non-stick pan, grease with olive oil then place marinated fish skin side down.
2. Bake over 350 degrees Fahrenheit for about 15-20 minutes. Brush with remaining marinade from time to time.
3. Remove from the oven then transfer to serving plate. Sprinkle with toasted garlic then serve hot immediately.